Discover more from Numlock Awards
A pop-up awards season newsletter! Your one-stop shop for news and Oscar forecasts.
Over 1,000 subscribers
Numlock Awards: BAFTA Awards
The Numlock Awards Supplement is your one-stop awards season update. You'll get two editions per week, one from Not Her Again's Michael Domanico breaking down an Oscar contender or campaigner and taking you behind the storylines, and the other from Walt Hickey looking at the numerical analysis of the Oscars and the quest to predict them. Look for it in your inbox on Saturday and Sunday. Today's edition comes from Walter.
Are you a subscriber who just joined us recently? Click here (or scroll down to the bottom of this email) for a recap of the Oscar race so far!
The British have held a referendum and tossed several lives into utter chaos, what the heck else is new?
The BAFTA Awards are in, generously concluding while the East Coast is still bathed in daylight. The British Academy is a fairly consequential precursor award in a whole lot of Oscar categories, and that's by design. Once a post-Oscar party, the people of the U.K. decided to carry on a tradition punching above their weight culturally in the United States, and did so by making the BAFTAs the last major award of Oscar season. The trends of Best Actress and Best Supporting Actress have been disrupted!
First, I'm going to run through the races. At the end of the email, I'm going to recap the season so far for the many folks just joining us.
Next week: I roll out the Beta Model, which is our way of attempting to figure out how to factor in the ranked-preference voting mechanism of the Oscars. It's going to be a blast.
Best Actress
Olivia Colman (The Favourite) has finally nabbed a top prize, even if it took playing on home turf to make it happen. For most of the season Glenn Close's (The Wife) campaign has nabbed the most success, winning at SAG and the Golden Globes and tying with Lady Gaga (A Star Is Born) at the Critics' Choice Awards. (Colman did win the Golden Globe for Best Actress in a Musical or Comedy, but that award is not particularly predictive of the Best Actress Oscar.)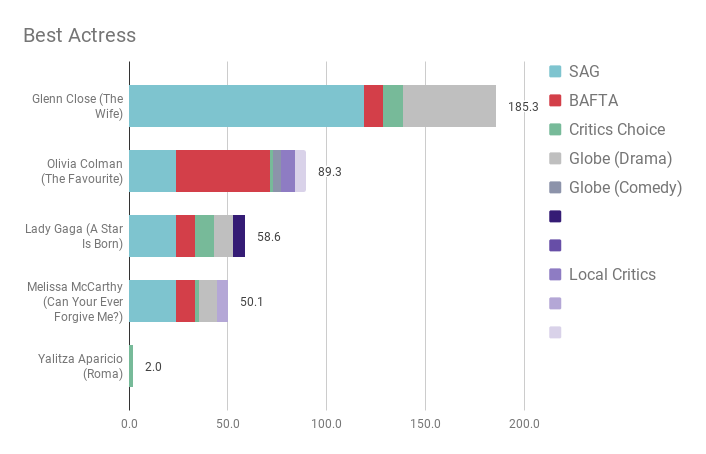 How seriously does this disrupt the Best Actress race? Not all that much, honestly. Had Colman enjoyed some big earlier wins it'd be one thing, but a late-season win among a favorable hometown voter base isn't particularly persuasive compared to Close's repeated domestic victories. This race is a little foggier than it seemed to be on Saturday — though it may stick a fork in the Gaga campaign — and anyone who's been as burned as often as Close has at the Oscars has a right to be a tad nervous, but I don't know if this upends the race as much as…
Best Supporting Actress
Okay, we've got a race. To briefly recap: Regina King (If Beale Street Could Talk) scooped up oodles of critics' awards and notched major wins at the Globes and Critics' Choice Awards. Her campaign hit a wall, though, when she missed out on nominations at SAG and BAFTA. Wins there have been strongly linked to Oscar success, so being left out was bad and a supreme momentum killer.
King eked out a spiritual victory at SAG when the guild rewarded Oscar-snubbed Emily Blunt over Oscar nominees Amy Adams, Emma Stone, and Rachel Weisz. But her luck ended today in Royal Albert Hall when the British Academy honored Weisz (The Favourite). Where does that leaves us? I don't want to get technical here but the term we in the forecasting business prefer is "completely screwed."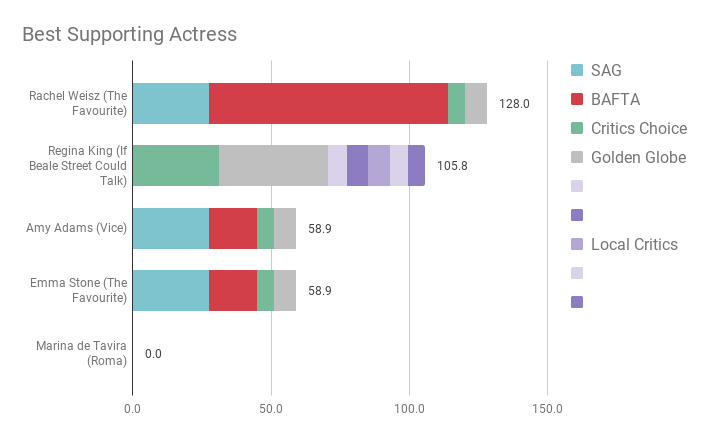 Like I mentioned last week, though, the next couple years have a whole lot of uncertainty in them thanks to the rapidly shifting composition of the Academy. We're going to be wrong, but the model is designed to roll with the punches and adapt very quickly to shifts in which precursors matter. If King wins, the weight of BAFTA as a predictor of Best Supporting Actress will take a swift hit. If Weisz wins, the critic awards will mean less, perhaps because they're not as up to speed with the New Academy. Either way, we'll do better next year. For now, we get to enjoy Oscar night.
Best Actor, Best Supporting Actor
The state of the male acting races remained unchanged, with the front-runners getting wins that make them undisputed favorites. Richard E. Grant's home turf loss means Mahershala Ali's the undisputed front-runner and Rami Malek is now as close as one can get to a lock.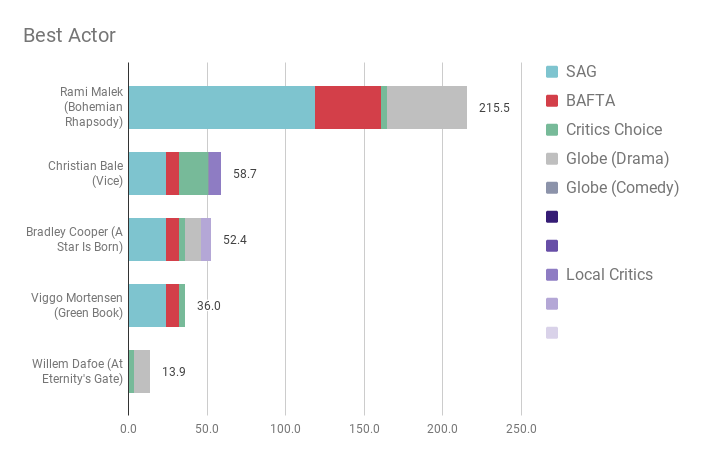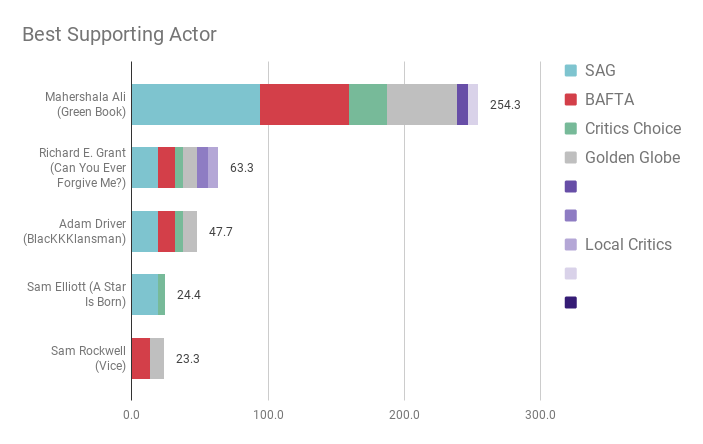 Best Picture and Best Director
Roma is pulling ahead on all fronts. Cuarón's win at BAFTA was, at this point, just running up the score. And the film's win among the British Academy is a massive push toward Oscar gold. While other rivals dined out this season among the producers and actors, Roma was iced out at the Globes and SAG and had a rough miss at the PGA. Still, its series of wins among critics and directors and the British make it our favorite this year, elbowing out Green Book and setting some serious distance between it and rivals.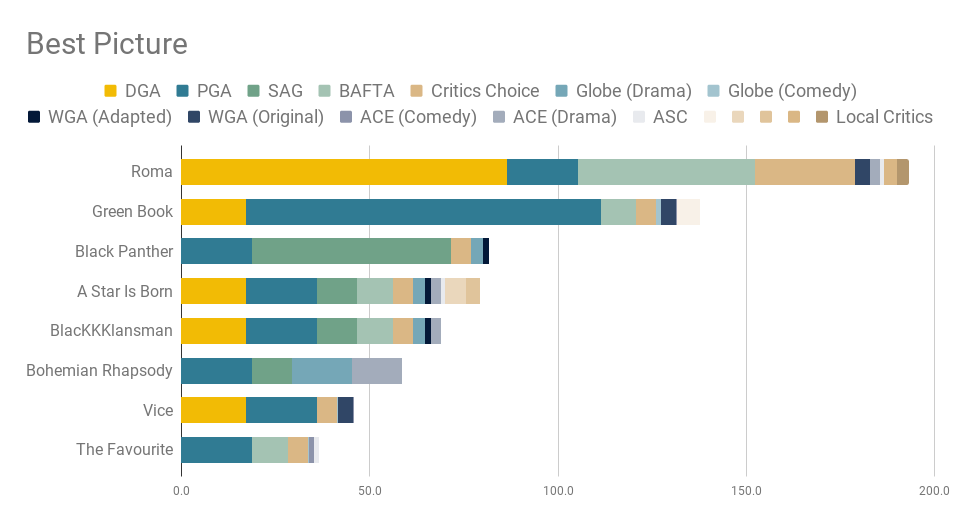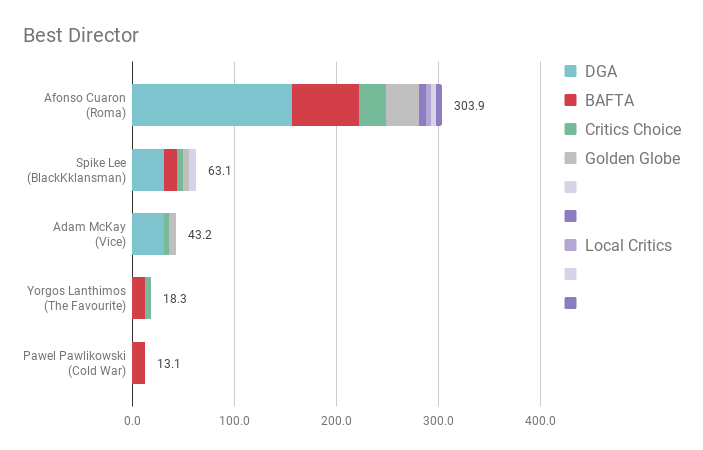 ---
Awards recap for new subscribers!
As people plug into the Oscar race now that we're nearing the end of the run, I wanted a post where we linked all of our coverage so you can go back and check in on what's happened so far.
2018:
January:
February: