Discover more from Numlock Awards
A pop-up awards season newsletter! Your one-stop shop for news and Oscar forecasts.
Over 1,000 subscribers
Numlock Awards: Oscar Nominee Chances
Tonight is Hollywood's third? fifth? Let's say fourth-biggest night, with the Screen Actors Guild doling out their prizes. The performers go home with a statuette, the best cast will get a jolt of momentum for their film, and we'll basically know who's actually ahead in each of our four acting races.
This week: let's drill down on the math as to why our model's saying what it's saying. Let's lead with the biggest mess of them all.
Best Picture
So let's game this one out. My bet right now is that this year goes down the same way 2015, the Spotlight year, went down. For those of you who weren't sweating bullets because your model had an effective three-way tie that night, essentially the Directors Guild Award went to The Revenant, the SAG Award went to the cast of Spotlight, and the Producers Guild Award went to The Big Short. When the precursors are so thoroughly split, and the ranked-choice ballot is there to make the calculation even fuzzier, we fly by the seat of our pants into the Dolby Theater.
Green Book won at the PGAs. Alfonso Cuarón (Roma) is the odds-on favorite to win the DGA Award based on what we've seen from the critics and his history with the group. Roma and Green Book aren't nominated for the SAG Award for Best Ensemble, as such, BlacKkKlansman, Bohemian Rhapsody, A Star Is Born, or Black Panther will snag those points. Or Crazy Rich Asians will, which is frankly my personal preference. But all else equal?
I bet it comes down to a three-way race between Green Book, Roma, and whichever film emerges from the SAG dogpile: BlacKkKlansman, Bohemian Rhapsody, A Star Is Born, or Black Panther.
There are ways that can go differently, like if Spike Lee wins at the DGA or Crazy Rich Asians takes those SAG points off the board. But as a forecaster with a pessimistic streak, it's going to get hairy.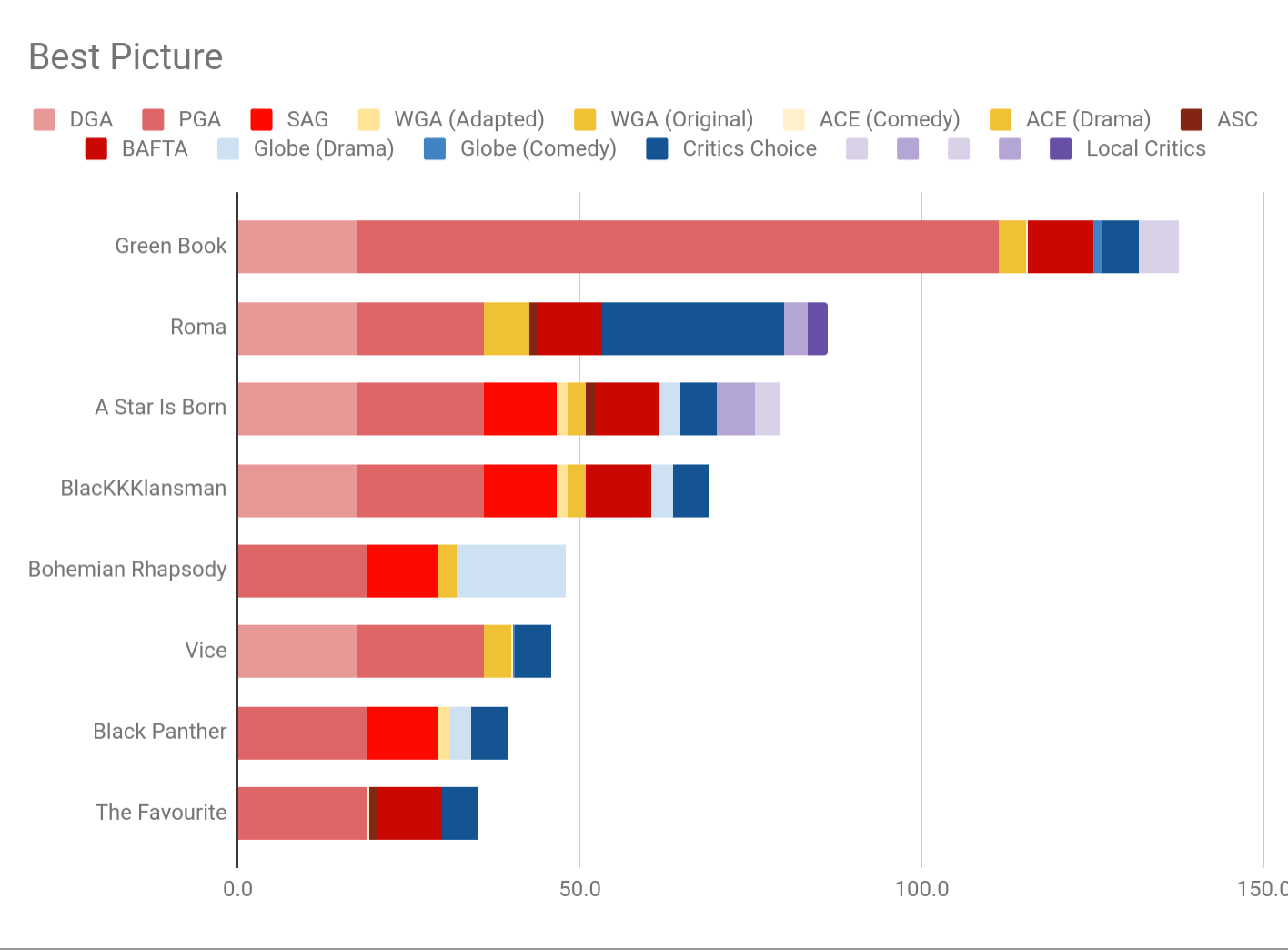 Best Director
This is going to be a DGA decision. The Directors Guild has an obscene amount of impact in this category and nails its call with remarkable accuracy. This is one of only a few categories where the new way my model handles critics came out super neat: Cuarón's been locking down regional critics' awards all winter, and thanks to that consensus, Cuarón gets a neat bump on top of his Golden Globe and Critics' Choice Award. Contrast that with categories to come, like Best Actress, where several people split those awards and nobody gets a push.
While anyone (except Lanthimos and Pawlikowski) can win, this race really looks like Cuarón v. Lee. A Lee win would make him an instant frontrunner and, depending on what SAG says, BlacKkKlansman either a contender or a frontrunner. Now, more than ever, a film highlighting a generational fight against bigotry may have a little more gas in the tank than people are giving it credit for. Nonetheless, it's a rare year where the DGA is not just one to watch but a referendum on the race in general.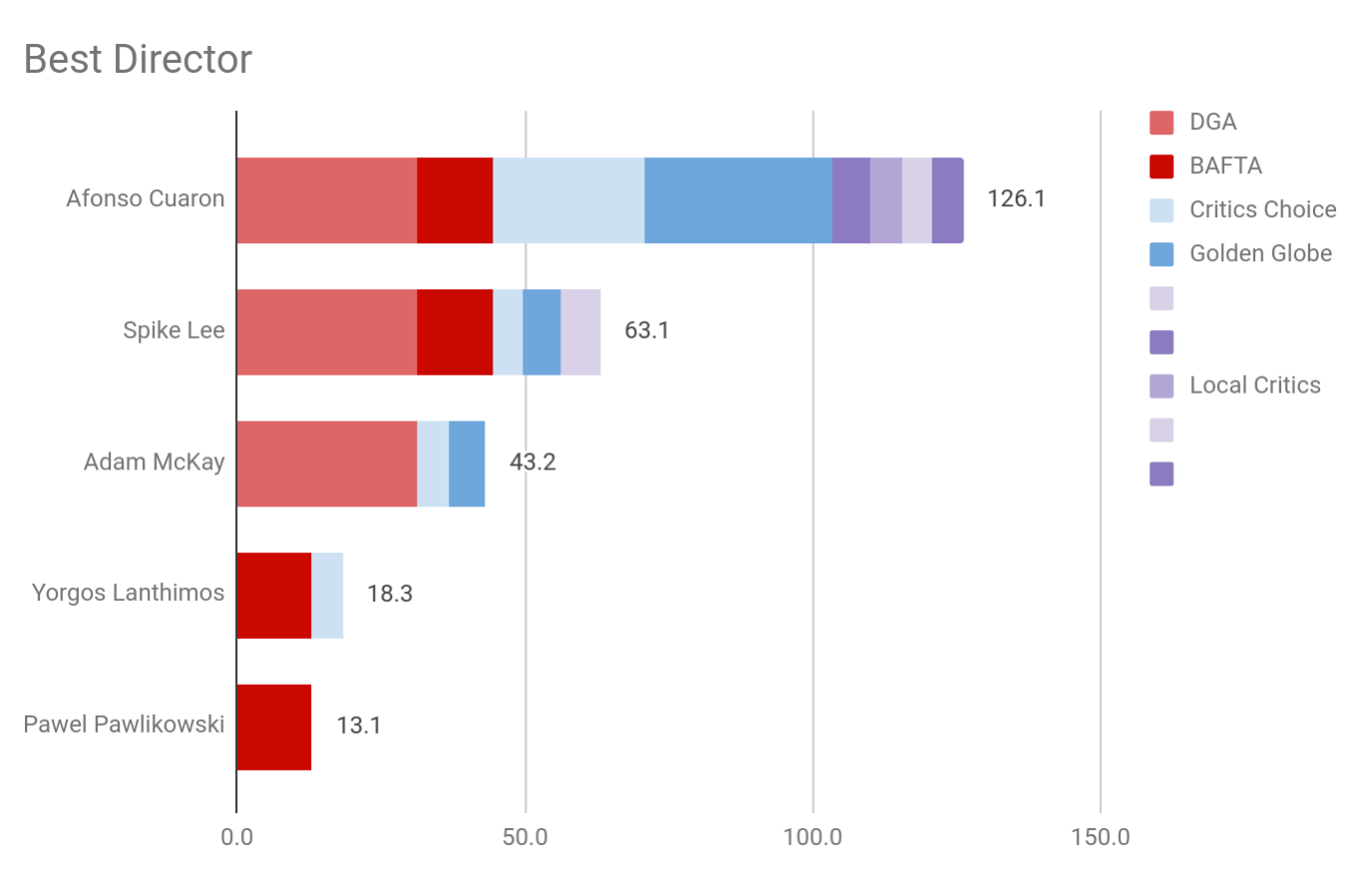 Best Actress
I love this race so much. We'll have a frontrunner sooner rather than later, but this race has everything: a strong bid for a Lifetime Achievement Oscar, a young singer with real chops making her Oscar debut in the acting categories, an outstanding British comedic performance that's playing great across the pond, a comic actress trying to move to the other side of the force, and a gifted total outsider who deprived Emily Blunt of attention. It's like if you put the past 40 years of Oscars in a centrifuge and added in Chemical X. As a fan I'm delighted, as an Oscar forecaster I'm screwed.
For now, at least. SAG will tell us about the basics of the race and BAFTA will secure them. For now, gaze upon this category and despair.
On a personal note, the best part of this is the fact that it's currently a Glenn Close (The College of William & Mary) beating Lady Gaga (New York University) race. So far I (W&M) am thrilled with how it's going compared to Michael (NYU).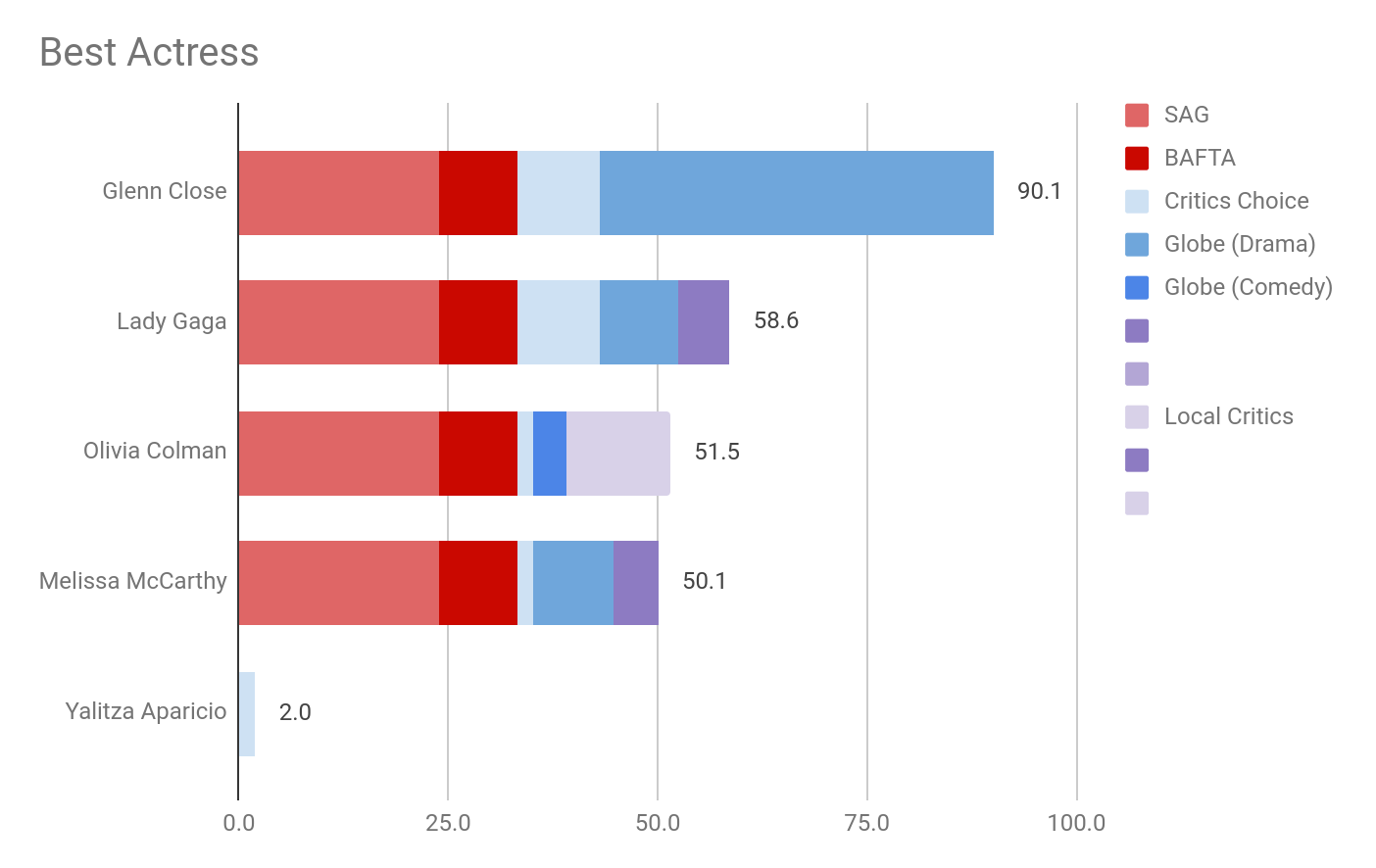 Best Actor
Willem Dafoe, the Joe Biden of the Oscars, snuck in!
We'll have a far better idea about the lay of the land tonight. While Rami Malek won the Golden Globe for Drama and Christian Bale won the Golden Globe for Comedy, the Drama paperweight is literally worth 35 times as much as the Comedy participation trophy. But this year feels different: Malek saw an orthodontist, while Bale got fat, a mild inversion of the Comedy/Drama commitment duality. Let's allow the Screen Actors Guild to sort this out for us.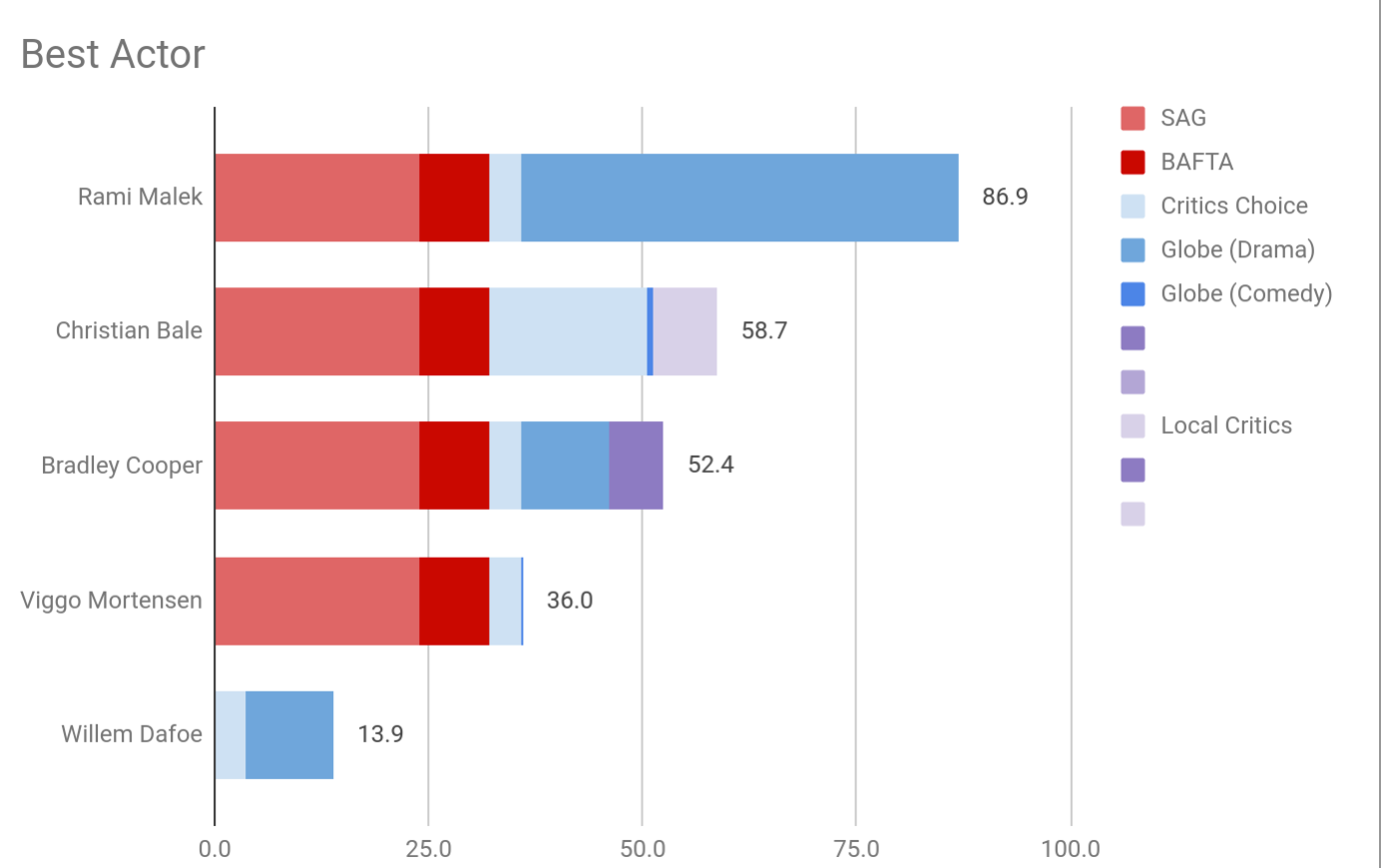 Best Supporting Actress
Regina King is a perfect example of a critical consensus making a difference. The critics are unanimous. The voters are not. This could become a three-way race, or this could become a race where Regina King holds her lead as SAG and BAFTA go in a non-Adams/Stone/Weisz direction, or this could be a situation where Adams, Stone, or Weisz springboard past King by winning at both SAG and BAFTA. Either way, this looks like a decisive race as it stands, but that status quo may go away.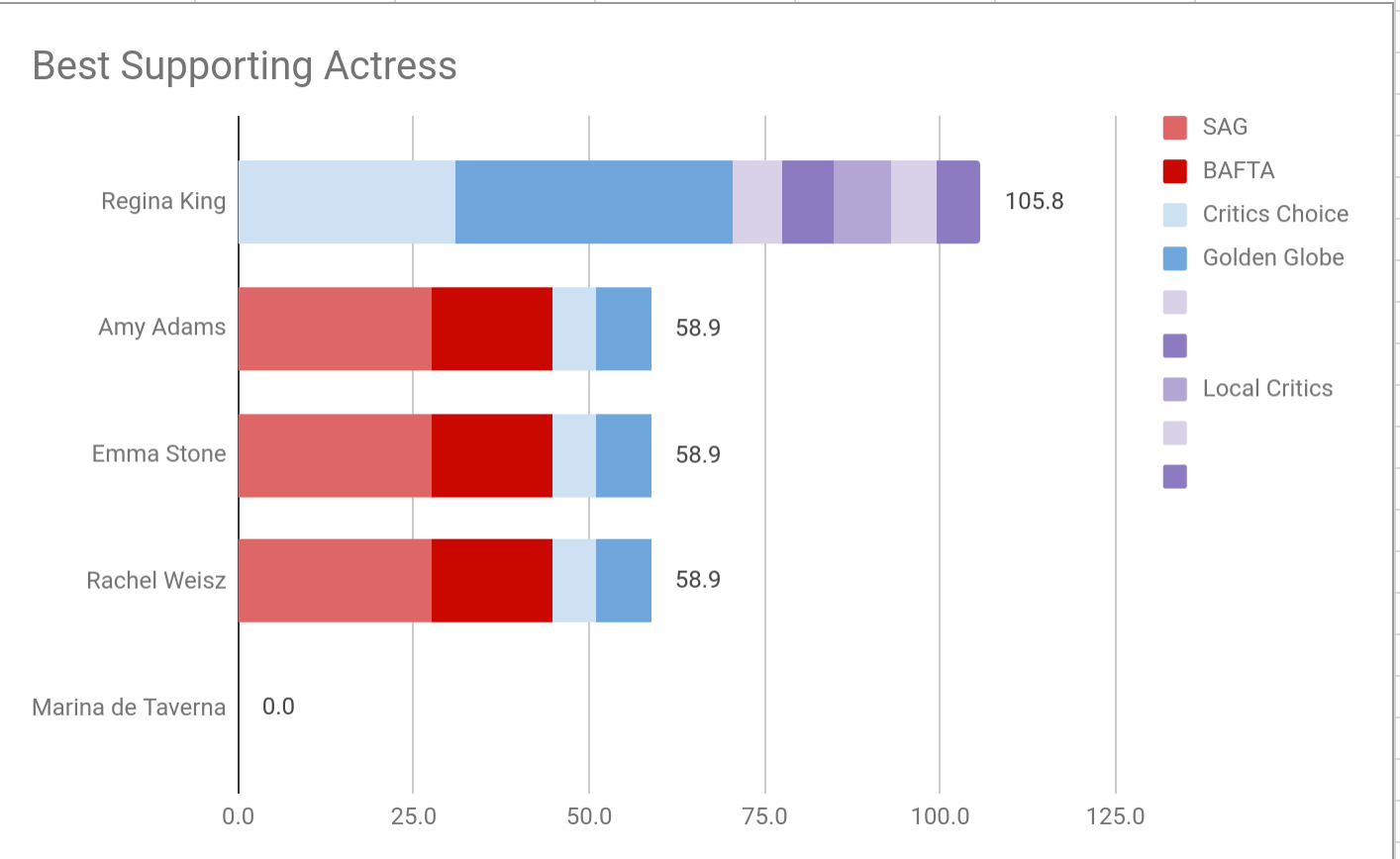 Best Supporting Actor
Only seven men have won the Best Supporting Actor trophy two or more times, and Mahershala Ali is looking like he'll be the eighth. Six men have won two, and only one has won three times in the category (Walter Brennan, coincidentally the first winner of the award). If Ali wins the SAG Award, he's rock solid for the rest of the year. A Grant win keeps this party going, and a Driver or Elliott win makes things at least interesting.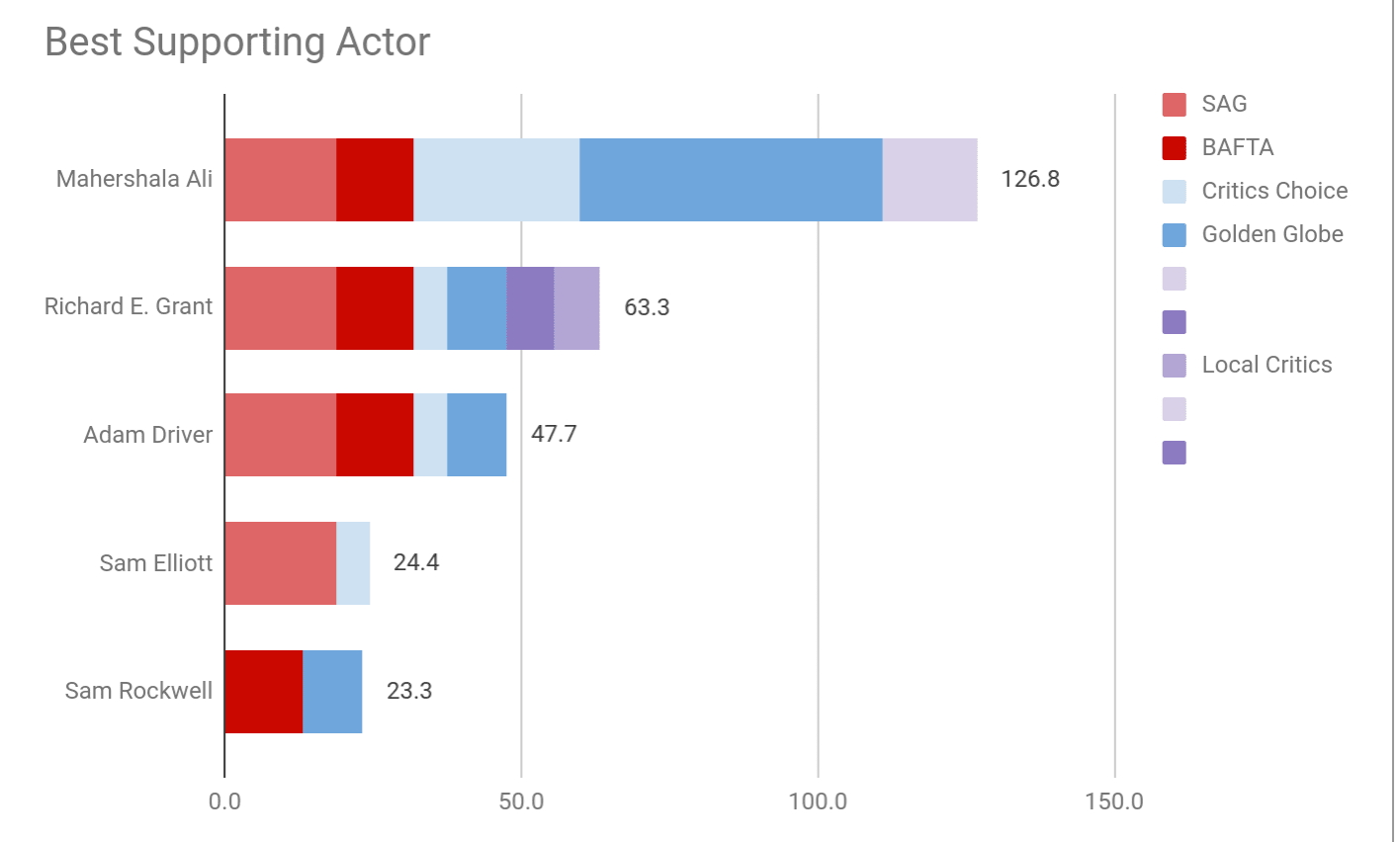 Tonight is the SAG Awards and this coming Saturday is the DGA. We're in the thick of it now.
This week, I'll be on Michael's podcast Not Her Again laying down my top ten favorite films of the year, so do check it out! Thanks for reading, and if you have any questions please send them in by replying to this email, and in a few weeks we'll be fielding reader questions!
Next week: The Beta Model unveiled!