Discover more from Numlock Awards
A pop-up awards season newsletter! Your one-stop shop for news and Oscar forecasts.
Over 1,000 subscribers
Glenn Close: Is It Finally Her Year?
The six-time nominee is looking to eke out a win this time around.
Glenn Close is developing a Susan Lucci problem: she keeps getting nominated for Oscars, but she never manages to win the Academy Award. She has developed a reputation as one of the greatest actresses of a generation alongside women like Meryl Streep and Jessica Lange. She has big hit after big hit, and still no Oscar. Everyone is wondering when the Academy will finally give in.
The year is 1988, and Close has just received her fourth nomination for her leading role in Fatal Attraction. When asked by Barbara Walters whether she deserves to win the Oscar for her role as a murderous seductress, Glenn answers simply: "I do deserve to win."
But Close would not win for Fatal Attraction (she lost to Cher in Moonstruck), nor would she win for the following year's Dangerous Liaisons (losing to Jodie Foster in The Accused). Following an Oscar drought, Close would return decades later to the Academy Awards for her lead role in Albert Nobbs. This time, she lost to a familiar face from the '80s: Meryl Streep, winning her third Oscar for The Iron Lady. So what does Glenn Close have to do to finally win an Oscar?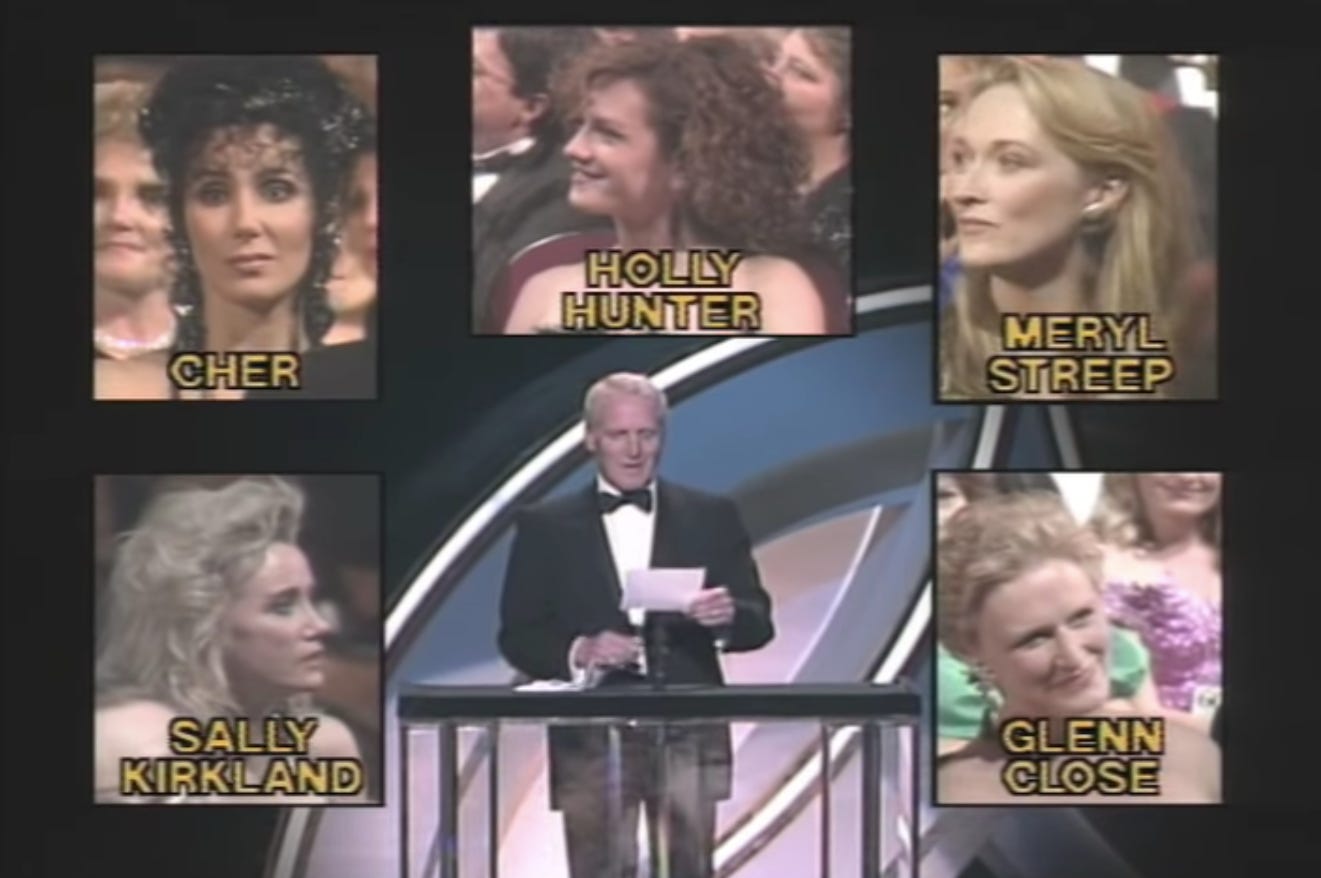 It's been 36 years since Glenn Close was first nominated for her supporting part in The World According to Garp, and Close is back in the conversation this year with The Wife, a well-received indie about a woman who begins questioning the nature of her marriage to a successful author.
In August, The New York Times ran an interview with Close about her role in The Wife under the headline, "For Glenn Close, the Seventh Nomination May Just Be the Charm." When asked about the Oscar buzz, Close is less forceful than she was in her 1988 interview with Barbara Walters.
"It's thrilling, you know? I'm proud of this movie. It was such a private, internal journey for me, and the first time I saw it with an audience, they were getting every single nuance. I've always felt that Oscars are about the role. And if you're lucky enough to get a role that resonates in the way it has to to have Oscar buzz forming around it, then you're a lucky fish."
Speaking to The Washington Post, Close was similarly circumspect about her Oscar chances, telling them, "I don't believe anything's going to happen until it happens." And with Entertainment Tonight, she kept her cool when asked whether she wanted an Oscar. "Well, it would be nice after 42 years, but, you know, I'm very sanguine about it. If it happens, great. It's not gonna change my passion for what I do."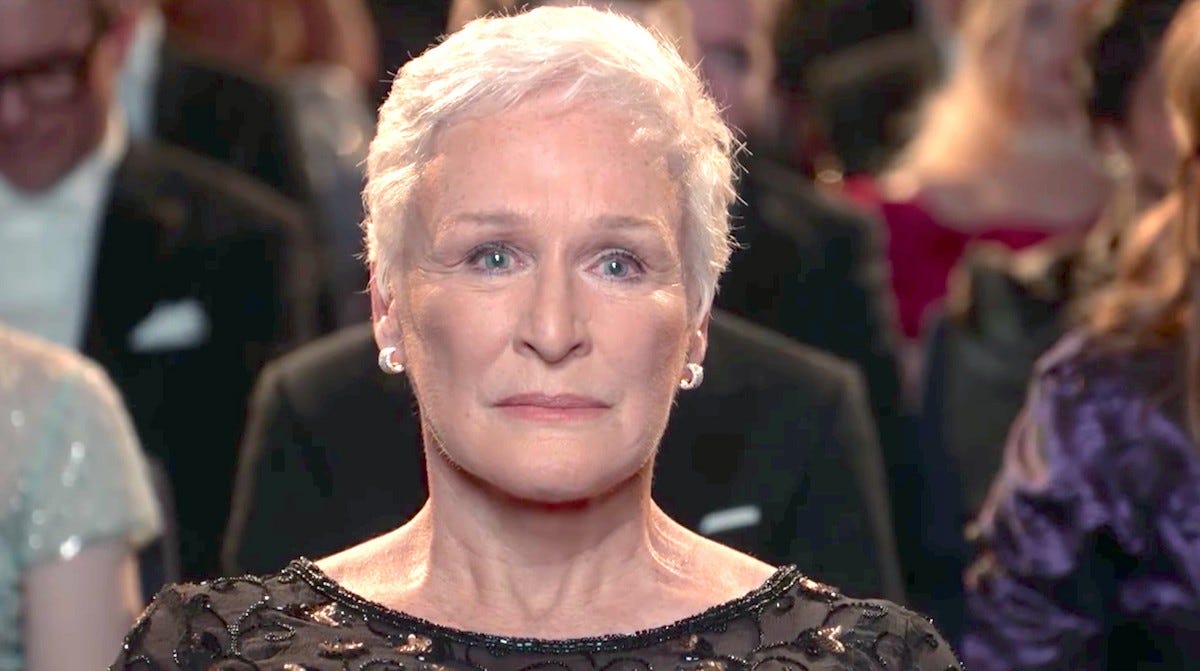 As discussed in my previous post, the "It's My Time" Oscar campaign generally relies on the media to do a lot of the heavy-lifting. No one wants to seem overly entitled to an Oscar. And this year, Glenn Close is taking up that slot when it comes to the Best Actress race. Take a look at some of the headlines surrounding her work in The Wife:
Close may have learned the most valuable of lessons from her Oscar loss for Fatal Attraction: let the media tell everyone you deserve an Oscar and play the part of an unexpecting, grateful nominee. It's similar to a political campaign — if things are going well, stay quiet and try not to make a mistake.
Close will have some formidable competition this year from women like Lady Gaga in A Star Is Born and Olivia Colman in The Favourite. Now, the question that first appeared 30 years ago is with us again: Is it finally Glenn Close's year?
Follow Michael Domanico on Twitter.