Numlock Awards Supplement: The Golden Globes
Welcome to Golden Globes weekend, folks! Tomorrow night on NBC, the Hollywood Foreign Press Association — once described in The New York Times as a group of people "who would cross the Alps for a hot dog" — will hand out the Golden Globe Awards.
The Globes have grown to occupy a weird space in awards season. In theory, the Globes should mean nothing since they're decided upon by a random cabal of international journalists, none of whom have membership in the Academy. And yet, the Golden Globes have managed to take up a lot of the cultural conversation. You've probably seen half a dozen trailers for movies and TV shows that introduce someone as a "Golden Globe Winner" (or, at the very least, a nominee).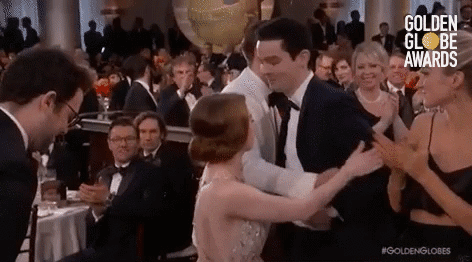 The Golden Globes actually do matter for a very specific type of awards season contender: The Bubble Contenders. Yes, I may have just made that name up, and yes, I may have capitalized it in order to make it sound more important, but hear me out.
A Bubble Contender is someone who seems to be most in danger of losing out on an Oscar nomination. Often, these people had some early critical buzz, but they have failed to fully guarantee themselves a spot on the Oscars shortlist.
In the 2016-17 race, French actress Isabelle Huppert was facing serious headwinds. While critics lauded Huppert's performance in Elle, the film's subject matter was difficult (to say the least) and her performance was entirely in French. And while she was nominated for a Golden Globe, she was sure to lose to Jackie's Natalie Portman, then thought to be La La Land's Emma Stone's mightiest competition for Best Actress.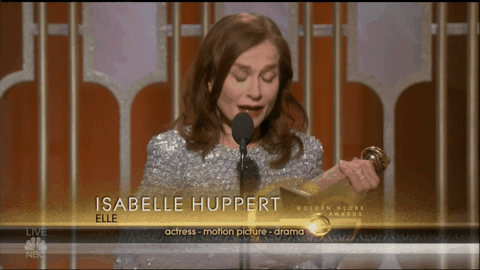 But Portman didn't win the Golden Globe. Huppert did. And a few weeks later, Huppert managed to land on the Oscars shortlist, beating the likes of Amy Adams in Arrival and Jessica Chastain in Miss Sloane. The Golden Globe win, which happened three days after Oscar nominations voting opened, may have given Huppert the visible bump she needed to secure a spot on the shortlist. More Academy members may have popped in their Elle screener, and Huppert loyalists may have felt their vote wouldn't be wasted on Huppert.
Not everyone is a Bubble Contender. Sometimes, people who win Golden Globes were so far removed from the conversation that even a well-timed Golden Globe win couldn't push them to an Oscar nomination. Take Aaron Taylor-Johnson, who also won a Golden Globe the same year as Huppert. Taylor-Johnson won the Golden Globe for Best Supporting Actor for Nocturnal Animals. And while the Academy did end up nominating a supporting actor from the cast of Nocturnal Animals, they actually ended up going for Michael Shannon.
Why the discrepancy between Huppert and Taylor-Johnson? After all, this was the same exact year and the same exact award ceremony. What gives?
The critical difference is that Taylor-Johnson didn't have any Oscar buzz to recapture. Huppert had won a steady stream of critics' prizes in the early Oscar race, including the Gotham Award. Winning the Golden Globe gave Huppert the edge she needed to reclaim her status as a serious contender for Best Actress.
Taylor-Johnson, on the other hand, did not have any critics' awards to his name. (While he did win the BloodGuts UK Horror Award for Best Supporting Actor, the Bloodies, as we in the know call them, have an atrocious Oscar track record.) If the Golden Globes help a contender recapture earlier buzz, there has to be earlier buzz to recapture in the first place.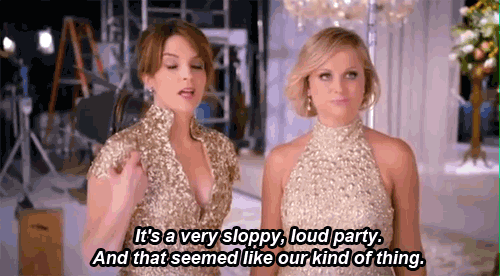 So who are this year's Bubble Contenders, and who are this year's Aaron Taylor-Johnsons? In other words, who would most benefit from a Golden Globe win tomorrow given their uncertain Oscar future, and which contenders are probably too far out of the Oscar race to climb their way back in even with a Globe win?
Bubble Contenders:
Regina King, nominated for Best Supporting Actress for If Beale Street Could Talk. While she looked like an early frontrunner to win the Oscar, she recently lost out on a SAG nomination, which is never a good sign. The last woman to win the Oscar for Best Supporting Actress without a SAG nomination was Marcia Gay Harden for Pollock, 18 years ago. A Golden Globe win could help her recapture her earlier frontrunner status.

Claire Foy, nominated for Best Supporting Actress for First Man. The insanely popular star of The Crown has made her transition to film, and many expected her to land an Oscar nomination for First Man, but the lack of a SAG nomination means she may be out of the running for an Oscar.

Robert Redford, nominated for Best Actor in a Musical or Comedy for The Old Man & the Gun. Redford made plenty of headlines when he announced The Old Man & the Gun would be his final film performance, but he's failed to show up in a meaningful way in other precursor awards. A Golden Globe win could stir up the Old Vanguard of the Academy to nominate Redford.
Aaron Taylor-Johnson Award for Those (Basically) Out of the Race:
Sam Rockwell, nominated for Best Supporting Actor for Vice. Rockwell, as last year's winner of this same award, may be heading toward a victory lap. Even if he wins, it likely won't matter: his role in Vice is incredibly minor, and he has not received any serious awards consideration outside of the Globes.

Lin-Manuel Miranda, nominated for Best Actor in a Musical or Comedy for Mary Poppins Returns. Look, we all love Lin-Manuel Miranda, and he'll definitely win an Oscar someday for writing a really catchy song in a Disney movie, but all of the acting buzz around Mary Poppins Returns rightfully rests with Emily Blunt.

Charlize Theron, nominated for Best Actress in a Musical or Comedy for Tully. This is Theron's fifth Golden Globe nod, and while she's a previous Oscar winner for 2003's Monster, the under-seen Tully just hasn't made a dent this awards season.
Voting for the Oscar nominations opens the day after the Golden Globe Awards. And hey, HFPA managed to find hosts who don't have a history of homophobia. Go figure. Enjoy the show!
Follow me on Twitter and check out my podcast, Not Her Again, wherever you get your podcasts.