Discover more from Numlock Awards
A pop-up awards season newsletter! Your one-stop shop for news and Oscar forecasts.
Over 1,000 subscribers
Numlock Awards Supplement: Julia Roberts, Comeback Kid
The Numlock Awards Supplement is your one-stop awards season update. You'll get two editions per week, one from Michael Domanico breaking down an individual Oscar contender or campaigner and taking you behind the storylines, and the other from Walt Hickey looking at the numerical analysis of the Oscars and the quest to predict them. Look for it in your inbox on Saturday and Sunday mornings. Today's edition comes from Michael and takes you behind Julia Roberts' excellent year.
Everyone loves a comeback. (Even F. Scott Fitzgerald probably thought there were second acts in American life.) And that's exactly what Julia Roberts is depending on with her latest film, Ben Is Back, a harrowing film about a mother struggling with her son's addiction problems.
Roberts isn't new to the idea of being a comeback kid. After an unprecedented decade and a half of movie stardom, critical acclaim, and huge box office hits, Roberts became a less visible film presence. For a few years, she appeared in voice roles and took supporting parts in Tom Hanks pictures.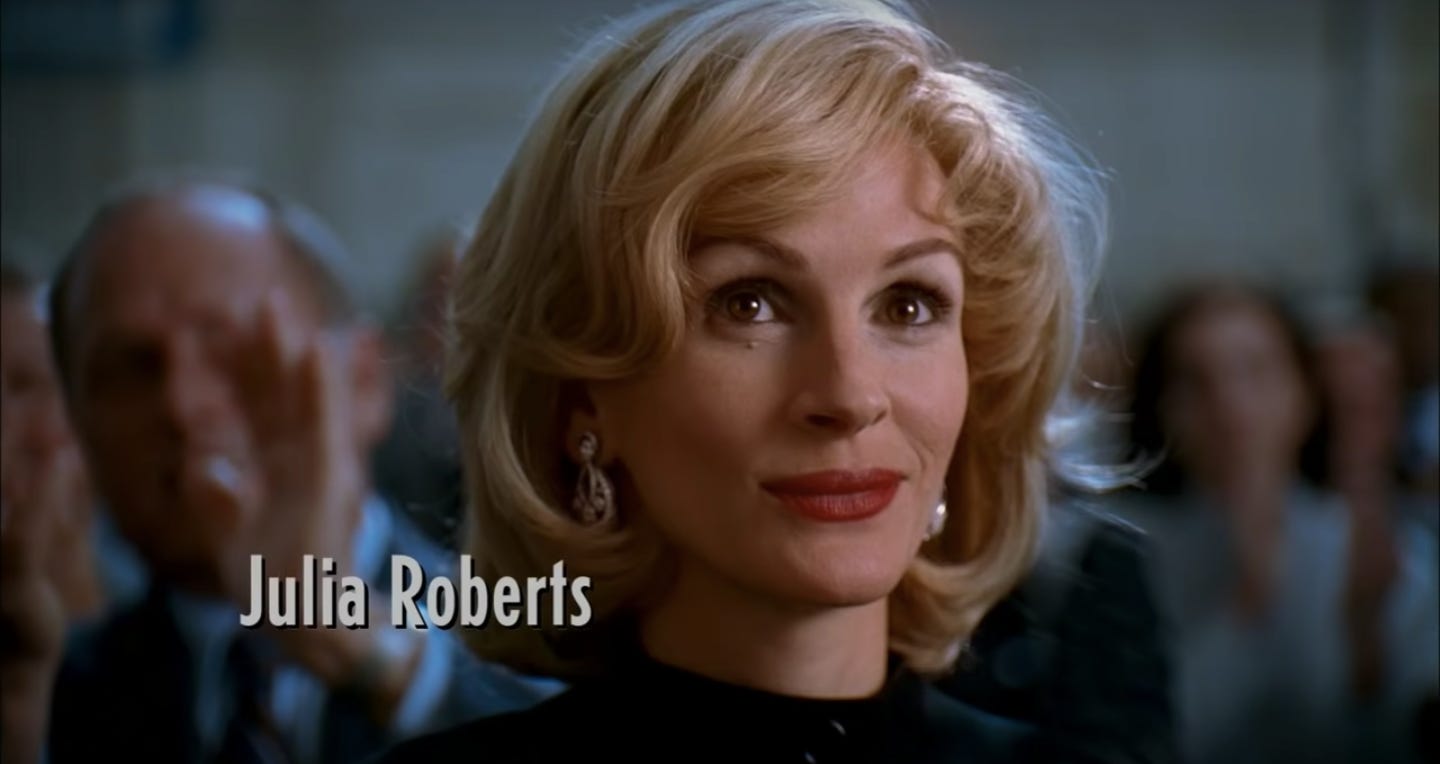 And in 2013, she teamed up with Meryl Streep for August: Osage County and got an Oscar nomination for Best Supporting Actress — her first Oscar nomination since winning for 2000's Erin Brockovich. But her role was secondary to Streep's, and the film received less-than-glowing reviews. (Slate called the film "an overcooked movie-star stew that never quite coheres into a movie.")
But 2018 has been shaping up differently for Roberts. She's the star of the new Amazon series Homecoming, which boasts a 99% Fresh rating on Rotten Tomatoes. And she's coming off of 2017's Wonder, which grossed over $300 million worldwide. Now, she's trying to get back into the conversation with Ben Is Back, but will the Academy embrace her? To figure that out, we'll have to look at the trajectory of another similar comeback kid narrative.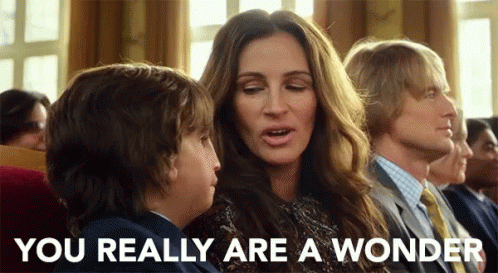 In 2014, Reese Witherspoon was coming off a string of box office bombs and critical flops like This Means War and How Do You Know. Then came Wild, based on the best-selling memoir by Cheryl Strayed. Witherspoon both starred in and produced the adaptation.
Unfortunately, Witherspoon was up against Julianne Moore's "It's Her Time" narrative for Still Alice, so she didn't take home the Oscar. Moore won nearly 30 precursor awards, including the Golden Globe and the BAFTA. Witherspoon's consolation prize was the nomination, which ended her nearly decade-long Oscar drought after winning Best Actress for 2005's Walk The Line.
A diverse array of publications took notice of the Reese Witherspoon renaissance, and Witherspoon ran with the narrative. In an interview with IndieWire, Witherspoon said of her comeback:
"It's funny, every career has hills and valleys, and I think you go through times you just don't feel particularly inspired. I think about two or three years ago, I just got really inspired and started this production company, started reading voraciously, calling everybody, and material — all of this is born out of a time of great artistic curiosity for me. So I think it's weird it's happening all at one time, but I'm glad people see that; it's definitely a conscious effort on my part to redirect my career."
Witherspoon was coy. She had been working on her own reinvention, and all people were picking up on were her conscious efforts to revive her ailing career. It's a narrative that's persisted as Witherspoon has enjoyed continued success.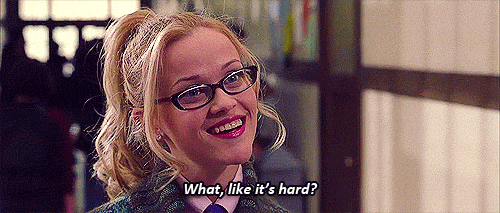 Witherspoon is a helpful blueprint for Roberts. While she never achieved quite the level of stardom Roberts did in her '90s heyday, they have a lot in common. Both Witherspoon and Roberts got famous in their early 20s anchoring studio rom-coms. Both ended up with Academy Awards before long, and followed up the Oscar win with less high-profile and less well-received work. Both have joined the peak TV landscape as part of their rebrand. But Witherspoon and Roberts differ in a critically important way that may make Roberts' path back to Oscar glory more difficult.
Witherspoon explicitly acknowledged her comeback. She knew she wasn't being offered the kinds of meaty roles she desired, so she formed a production company to create her own star vehicles. The entire Witherspoon brand as we know it today is predicated on the idea that if you want to get something done, do it yourself. Wild. Big Little Lies. Her upcoming show with Jennifer Aniston for Apple TV. All of those are projects that Witherspoon shepherded into existence, and she has been an incredibly visible behind-the-scenes presence. The New York Times recently ran an entire profile in its business section headlined, "Reese Witherspoon's Second Act: Big-Time Producer."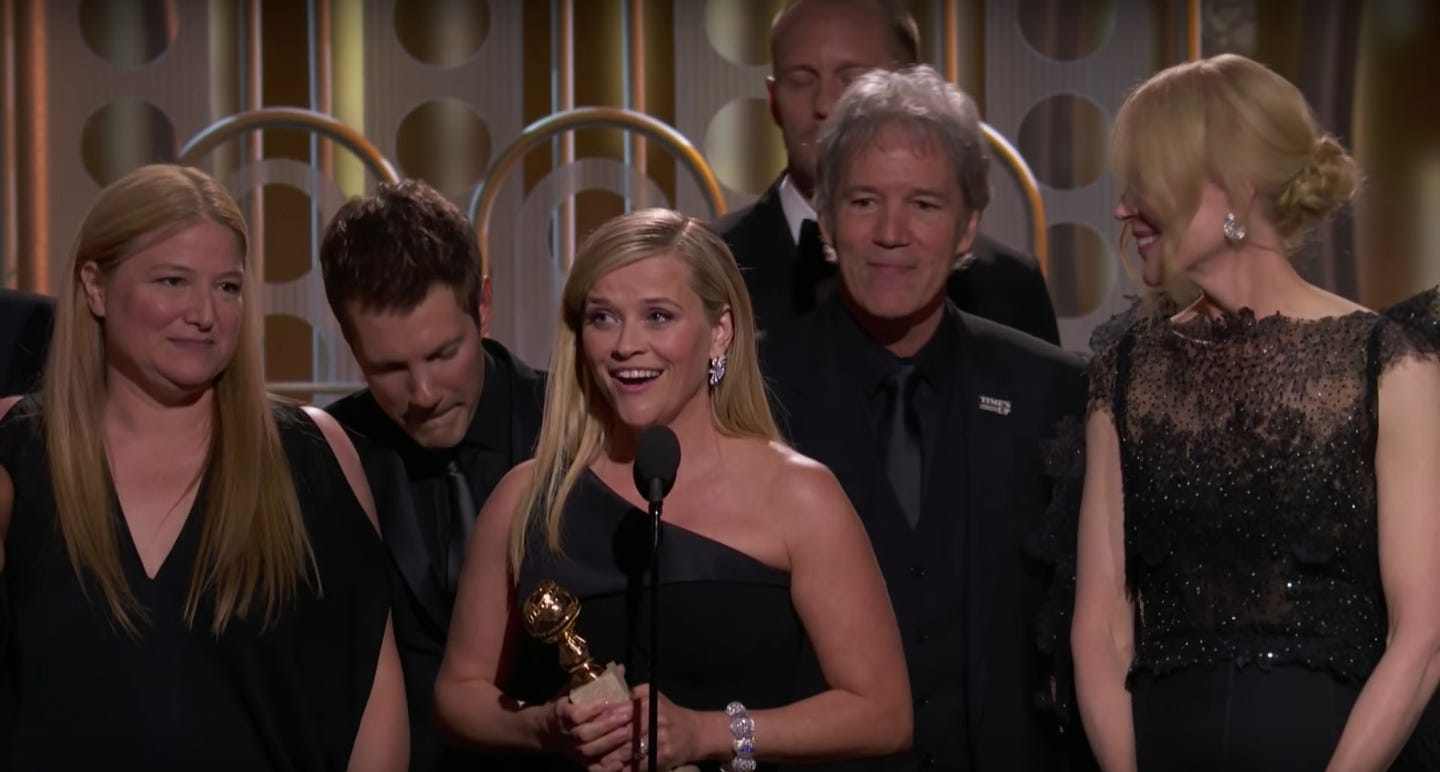 Roberts is not in the same boat. In the Daily Beast profile on Roberts and her Ben Is Back co-star Lucas Hedges, there is an explicit disavowal of any notion of a comeback for Roberts:
A byproduct of that transformation [to motherhood] has meant working less than some of her A-list peers. She's hardly vanished from the industry, by any means, though a litany of "comeback" thinkpieces are written each time she returns to the spotlight, which happens in roughly one film a year at this point.  
Back in 2009, Roberts declined to comment on a New York Times profile about her return to starring roles in Duplicity, her first lead role since 2004's Closer.
Roberts fulfills her promotional obligations for her projects, but she rarely does more than the standard press junket, late-night appearances, and glossy magazine shoots. She's not out there in the way Witherspoon was during the 2014 Oscar race (or in the years since).
Take the recent Hollywood Reporter Actress Roundtable, a staple of the awards race where THR gathers a bunch of the leading Oscar contenders for an extended conversation with each other. Witherspoon was part of the roundtable during her Wild press tour. Roberts was not part of THR's 2018 actress roundtable. (Note: While I can't be certain that Roberts actually did request to be part of the roundtable but was rejected, I feel relatively confident THR would have gladly made room for Roberts at the table if she wanted in.)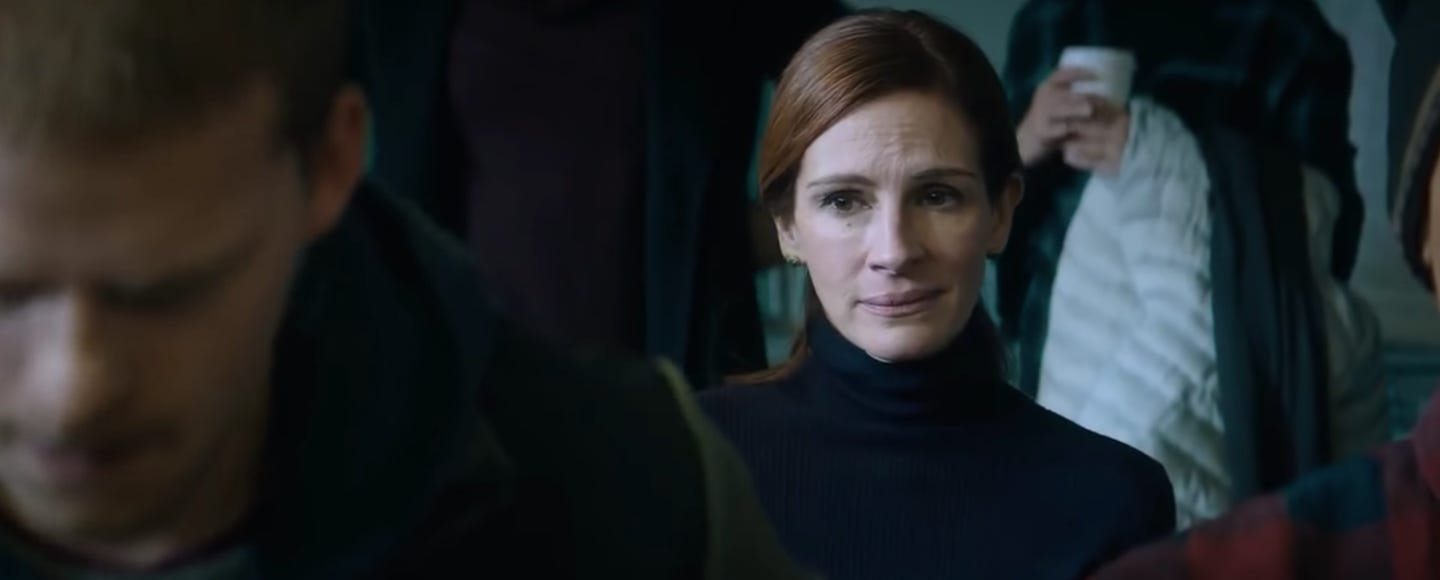 There's no shortage of press for Roberts to capitalize on. THR called her performance in Ben Is Back Oscar-worthy following the film's Toronto premiere, and Variety listed her failure to get a Golden Globe nomination for the film at the top of its Snubs list. The New York Times Magazine put her performance on a shortlist of the best performances of the year. But in order to re-enter the Oscar race, Roberts may need to take a page out of Witherspoon's book and play the game more aggressively, especially after losing out on both Golden Globe and Screen Actors Guild Award nominations. Otherwise, maybe these hipsters have a point and there are no second acts in American life.
For those interested: The latest season of the Not Her Again podcast, which I host and Walter appears on frequently, covered the career of Julia Roberts. Our latest episode is a deep-dive review of Ben Is Back, so feel free to check it out. You can also follow me on Twitter.