Numlock Awards: Oscar Final Strech
The Numlock Awards Supplement is your one-stop awards season update. You'll get two editions per week, one from Not Her Again's Michael Domanico breaking down an Oscar contender or campaigner and taking you behind the storylines, and the other from Walt Hickey looking at the numerical analysis of the Oscars and the quest to predict them. Look for it in your inbox on Saturday and Sunday. Today's edition comes from Walter.
Between the last time I wrote one these and now, two of the most important awards we study took place, the Directors Guild Awards and the Screen Actors Guild Awards. Those awards have — in most cases — solidified our perceptions of the races, but in the big category, Best Picture, these precursors have done more to obscure the winner than produce a front runner.
We'll have updates on those races after, but first let's talk about Best Picture.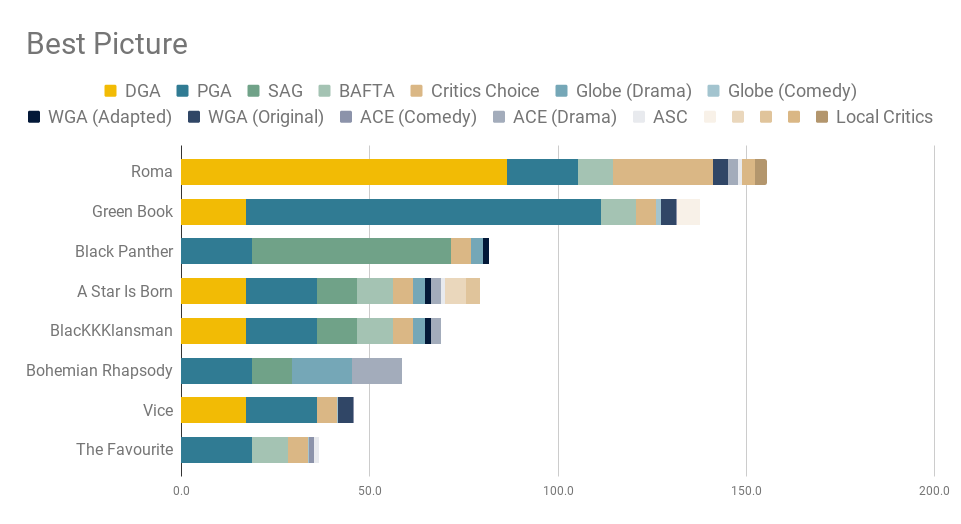 This is one heck of a distribution. In previous years, you'll have a few major front runners heads and shoulders over the rest. But for now — even this late in the process — it's still a fairly open race. Roma pulled ahead of Green Book this weekend with a resounding win for Alfonso Cuarón at the DGA. This was a fairly essential win for Roma: its loss at the Producers Guild and complete absence from the SAG awards made the Mexican feature a potential early favorite that fell apart right before the finish line. But its win at the DGA is a massive one, as that is one of the most reliable predictors of movies that win Best Picture. Both Green Book and Roma are competing for the top prize at BAFTA and in the original screenplay category at the Writers Guild Awards: look to those categories to give one or the other the final boost in the endgame.
But this is still quite far from a two-picture race. Because even though Roma and Green Book won two big awards, their absence from the SAG best cast category is a worrisome one.
Black Panther's win at the SAG Awards for Best Cast is a big boost for the the film, but it and Bohemian Rhapsody have effectively reached the end of the line, precursor-wise. Panther only has a shot at the Writers Guild Awards for an adapted screenplay win, and anyone associated with Bohemian Rhapsody who isn't Rami Malek won't need another tux 'til Oscar night. Vice is in a similar position, with only a WGA (original screenplay) chance to get more points.

Meanwhile, The Favourite will make its last stand with home-field advantage at the BAFTA Awards, but even that win would put it on the bubble. A Star is Born and BlacKkKlansman have enough potential opportunities to gain points at WGA, ASC and BAFTA to make them legit contenders, but right now the race will largely come down to the British Academy.
This makes for a really exciting year. As I've mentioned before — as the entire motivation for overhauling the model — the New Academy has the votes to make a fundamental impact on the future of the Oscar race, and our traditional historical mechanisms of Oscar prediction will fail sooner rather than later.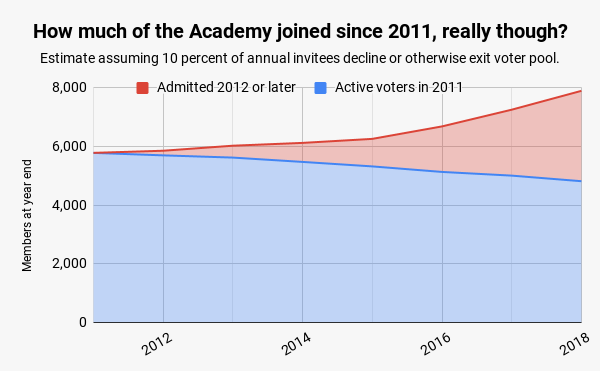 The really nice thing about this year is that so many different Oscar constituencies are breaking so many different ways. Regardless of what our "final prediction" ends up being, going into next year we'll be able to have more confidence that what we're counting is worth counting. One or two awards will be vindicated and the rest will be shown to be lagging behind the Academy. It'll take a few years to settle down, but if you believe — as I believe — that the new electorate of the Academy will eventually impact who the organization decides to honor, being wrong is just as important to ascertaining that impact as being right is.
---
Race updates:
The DGA decided to go with Cuarón over the competition. This race looks pretty much over.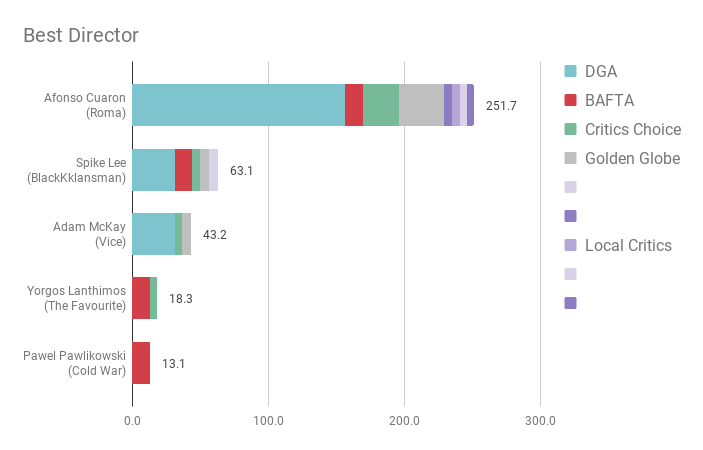 Glenn Close beat Lady Gaga at the SAG Awards, further cementing The College of William & Mary's superiority over NYU, Michael.
(Ed. Note from Michael: Lady Gaga never ended up graduating from NYU.)
This race looks pretty over. BAFTA going to someone besides Close could muddy the waters a bit but this is breaking fairly clearly in Close's direction.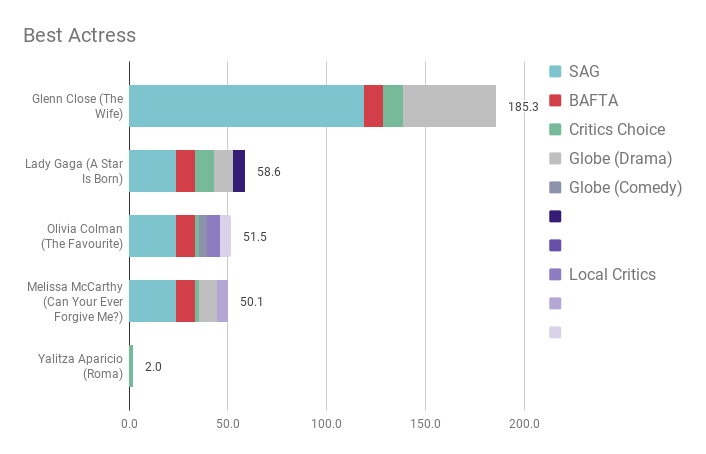 Best Actor is all Malek now since he's won basically every consequential precursor and is about to go to the British Academy after playing U.K. entertainment icon Freddie Mercury. He should be feeling pretty good about things at this point.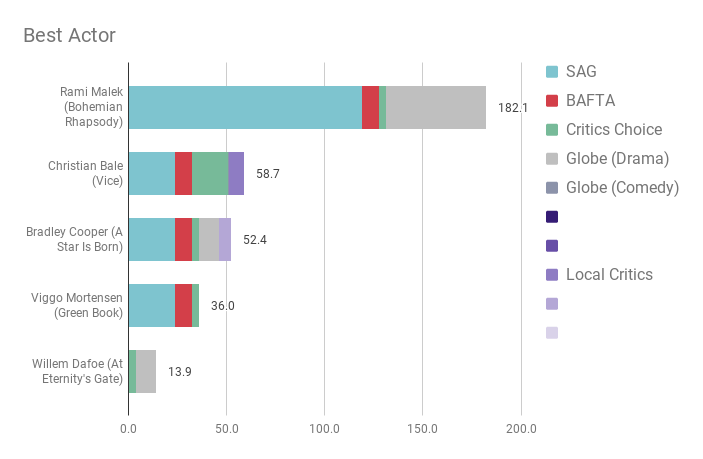 Mahershala Ali has continued his march to a second Oscar. A home turf Richard E. Grant win at BAFTA would be nice, but Ali's lead is so substantial at this point I'd be shocked if even that threatened it.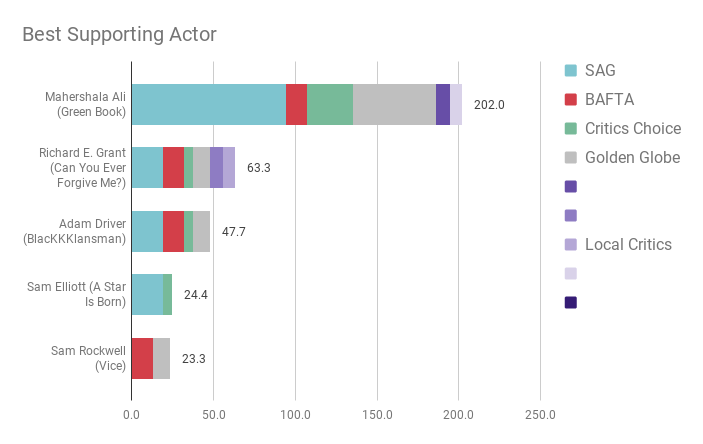 But now we go to the coolest race of the year. Because things just got interesting. Regina King (If Beale Street Could Talk) had a very, very good season until she was snubbed for nominations at SAG and BAFTA. Those two awards overwhelmingly direct the race, and are worth well over half the pot of available points to supporting actresses. This was a major setback for the King campaign, as her three largest rivals — Amy Adams, Emma Stone and Rachel Weisz — were up for both awards. A SAG win would have made any one of those women the lock for front runner going into Oscar night.
Instead, the Screen Actors Guild gave its award to Emily Blunt for her performance in A Quiet Place. (As an aside, the fact that Blunt won at SAG and her performance in Mary Poppins Returns was also getting Oscar buzz means I think she may have missed an Oscar nomination just because her voters split their votes between her performances in the two films, which sucks.)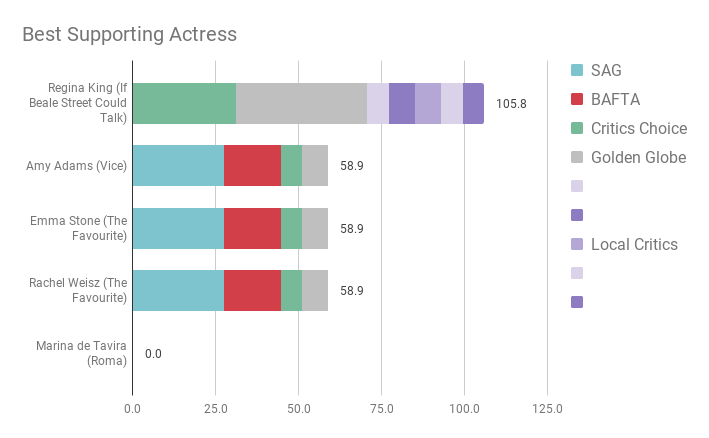 This was the best possible outcome for King, and one she hopes is replicated at BAFTA, where he rivals are up against Margot Robbie (Mary Queen of Scots) and Claire Foy (First Man). But for now, this is a wild race and I'm really enjoying it and not at all panicking over the lack of clarity, nope, not at all.