Numlock Awards: Oscars Recap
Well, that happened! Let's just dive into it, folks.
Best Picture
Spike Lee probably summed it up best: "Every time somebody's driving somebody I lose. But they changed the seating arrangement this time." Lee is of course referring to the infamous 62nd Academy Awards, when Driving Miss Daisy won Best Picture and Lee's seminal Do The Right Thing wasn't even nominated. This time, Lee's BlacKkKlansman — which was nominated — lost to Green Book, which flips the races of the driver and the passenger.
Unlike Lee, presenter Julia Roberts was able to muster her famous megawatt smile after announcing Green Book took home the top prize: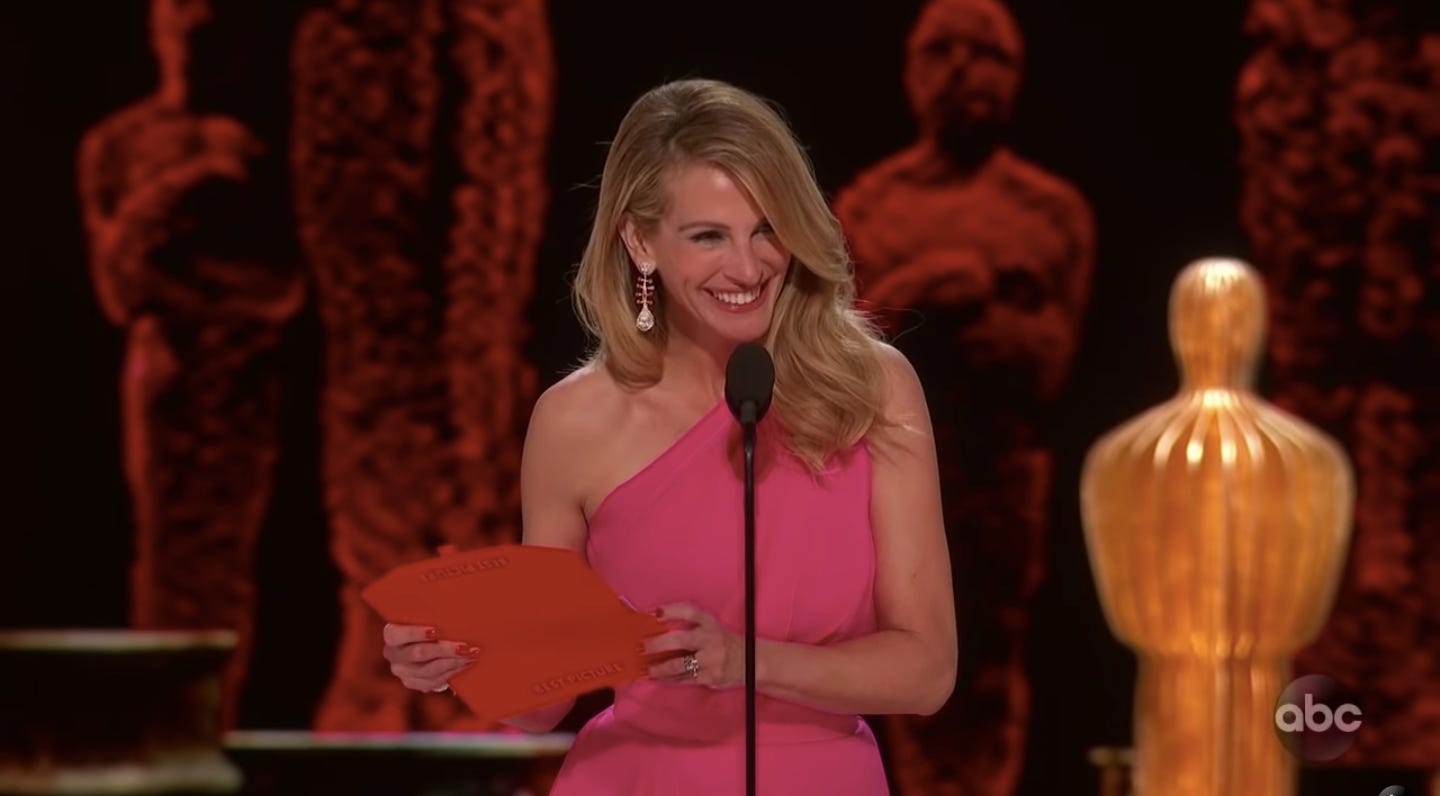 So what happened? I'll leave the explanation of the Best Picture math to Walter in his forthcoming post, but here's my soft answer.
Roma, the presumed frontrunner, was an artistic, auteur-driven, foreign-language film on Netflix. There's been a lot of debate over whether the Academy was willing to give Best Picture to a Netflix film at a time when Netflix is seen as a disruptor to the traditional moviegoing experience. The answer last night was a resounding "not yet." While Netflix tried to play the traditional studio game by (briefly) releasing Roma in theaters before sending it to streaming, its efforts clearly were not enough. And it's worth noting that Roma would have been the first foreign-language film ever to win Best Picture.
While a previous Best Picture winner like Moonlight was also an arthouse film, it was still an English-language feature that was released in theaters, grossed about $22 million by Oscar night, and starred familiar faces like Mahershala Ali, Janelle Monáe, and Naomie Harris. Roma featured a cast of unknowns, and its biggest name was Alfonso Cuarón, who did take home Best Director and Cinematography last night. In short, Roma had too many barriers to overcome at once.
And Green Book, despite being plagued by bad press, was able to convert its widespread audience appeal into a Best Picture statue. Wins at the Producers Guild Awards, the Golden Globes, and the audience prize at the Toronto International Film Festival evinced genuine love for the movie. It may not be the most critically acclaimed Best Picture winner — it currently stands at a Metacritic score of 69 — but it's grossed over $144 million worldwide and received an A+ CinemaScore from audiences. Sometimes, a feel-good movie is what people want.
Best Actress
Imagine: your first movie comes out and you get an Oscar nomination for Best Supporting Actress. Then the next year, your second movie comes out and you get another Oscar nomination in the same category. Then the next year, your third movie comes out and you get another Best Supporting Actress nomination. By the end of the decade, you've racked up two Best Actress nominations to boot.
That is Glenn Close's life. She received three back-to-back-to-back nominations for The World According to Garp, The Big Chill, and The Natural. She closed out the '80s with lead actress nominations for Fatal Attraction and Dangerous Liaisons. Since then, her Oscar well has dried up considerably, but she still garnered two Oscar nominations in the past decade for Best Actress (2011's Albert Nobbs and of course last year's The Wife).
It's not unusual for people to assume Close would have finally won — career Oscars for a body of work are relatively common, and have been given out to more questionable performances than The Wife. Close's face when she lost to Olivia Colman (The Favourite) sums it all up: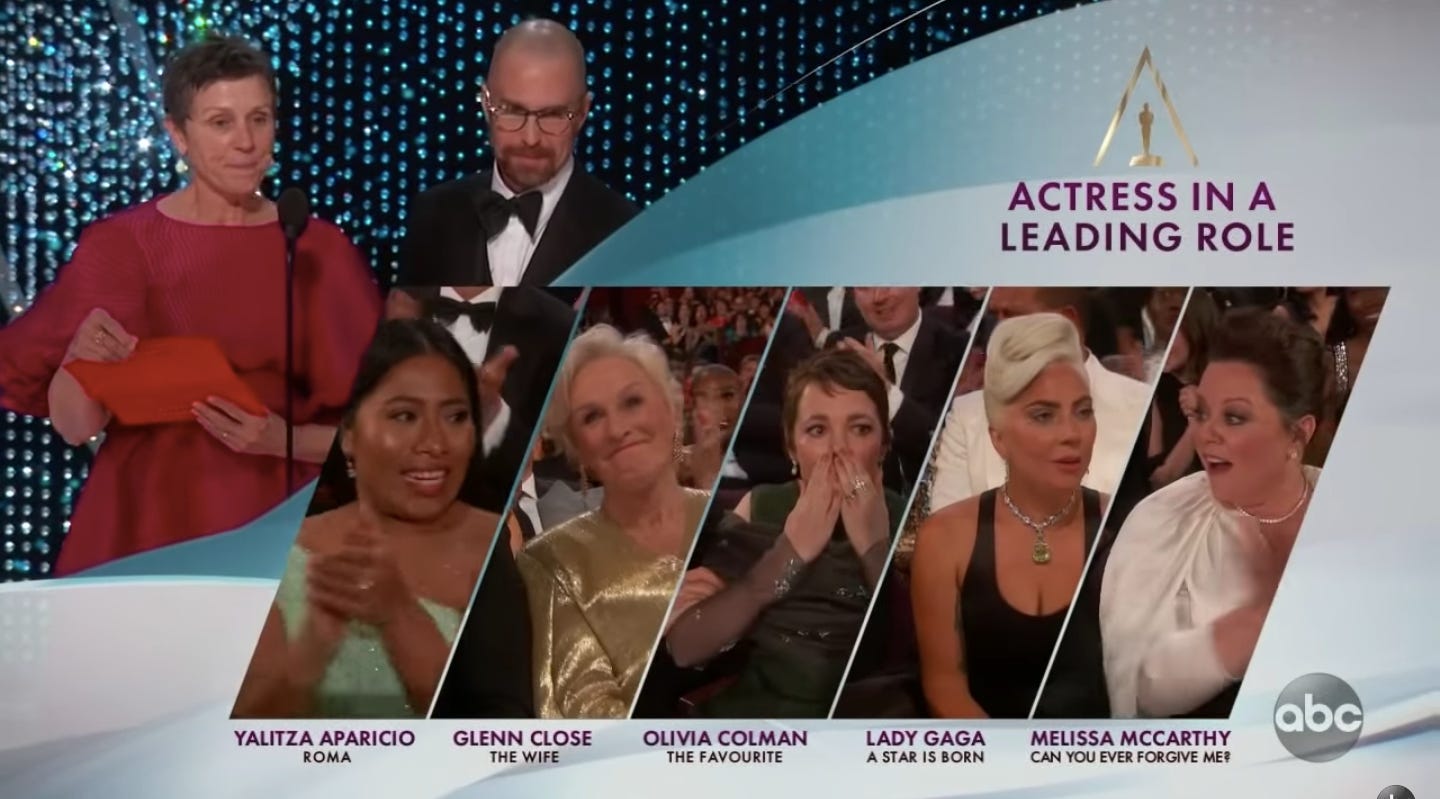 Honestly, all of their faces sum it up. So what happened?
Close is hardly the first person to lose a widely anticipated career Oscar: Sylvester Stallone lost to Mark Rylance in 2016, Lauren Bacall lost to Juliette Binoche in 1997, Judy Garland lost to Rita Moreno in 1962 and to Grace Kelly in 1955. When Garland lost to Kelly, she was in the hospital after giving birth to her son. Camera crews came to her hospital room, ready to broadcast the thrilled reaction of a postpartum Garland when she finally won Best Actress. Needless to say, that didn't happen, and the camera crews left Garland once Kelly was announced as the winner. Showbiz!
There are a few factors that probably hurt Close's chances. First, The Wife was an incredibly small movie that came out last August and grossed only $9.4 million by Oscar night. The Favourite is the more recent movie, premiering in November, and it has grossed over $32 million so far. Second, Close was her film's only nomination. Colman, on the other hand, was one of 10 nominations for The Favourite — showing widespread support for the film throughout the Academy's many branches. Third, Close may have been held up to her own standards, and her work in The Wife probably doesn't approach the memorability of her performances in films like Fatal Attraction and Dangerous Liaisons.
Fourth, and perhaps most importantly, a lock is never a lock. If 2016 taught us anything, it's that relying on other people to vote for the Sure Thing and using your vote elsewhere can have big electoral consequences. I am, of course, talking about how Sam Smith won an Oscar that year for his terrible James Bond song over front-runner Lady Gaga's "Til It Happens to You."
But don't feel too bad for Close. TCM's Dave Karger tweeted that Close, in a recent interview with him, seemed pretty que será será about the whole thing and said it would be fun to keep her losing streak going as she is currently the most-nominated living actor without a win. (Peter O'Toole, who passed away in 2013, had eight nominations without a win.) As my mom pointed out, there's a silver lining here: Amy Adams was widely expected to take Close's spot on that list last night, since she has six nominations and no wins. Adams will avoid that dubious distinction — for now.
Plenty of iconic actors never won competitive Oscars: Cary Grant, Greta Garbo, Judy Garland, Gene Kelly, Marilyn Monroe, Deborah Kerr, Ava Gardner, to name a few. Even Paul Newman won on the eighth try. (Note: one of his nominations was for producing 1968's Rachel, Rachel.) He didn't even show up when he finally won Best Actor for 1986's The Color of Money.
At the end of the day, it's gotta bruise your ego a bit to be invited seven times only to never win. But to make a living doing what you love and to reach the upper echelons of acting, as Close clearly has, is a pretty good consolation prize. And it will always be objectively hilarious that Close, the favorite this awards season to win Best Actress, lost to Olivia Colman in…… The Favourite.
Best Actor & Supporting Actor
I'm lumping these two together because Rami Malek (Bohemian Rhapsody) and Mahershala Ali (Green Book) were the expected winners by a fairly considerable margin. I'll stop to note this: in 2017, Mahershala Ali won Best Supporting Actor for Moonlight, which also won Best Picture; in 2019, Ali won Best Supporting Actor for Green Book, which also won Best Picture. Basically, if Ali wins Best Supporting Actor, your film is going to win Best Picture.
Also, it's endlessly funny that Ali went for a handshake with Viggo Mortensen, while Viggo went for the hug.
Best Supporting Actress
Another relatively expected win for If Beale Street Could Talk's Regina King. I know Walter's model gave Rachel Weisz (The Favourite) a tiny lead going into the ceremony, but the narrative pushing King toward a win never dissipated, even in the face of snubs at the SAG and BAFTA awards. Weisz's previous win in this category likely set her back, and If Beale Street Could Talk, though only a minor hit at the indie box office, was one of the best reviewed films of the year. King is also something of an awards magnet, winning three Emmys in the last four years. She's good at giving speeches and is clearly well-liked by her peers.
Barry Jenkins also has something of a magic touch when it comes to his supporting cast. Mahershala Ali won for his supporting role in Jenkins' film Moonlight, and Naomie Harris was also nominated for Best Supporting Actress for that film. With Regina King winning for his Moonlight follow-up, Jenkins is likely fielding a call from Glenn Close right about now.
Be on the lookout for some more post-awards coverage from Walter and myself over the next week or so. As always, feel free to send in questions about the ceremony, the results, or how Julia Roberts has managed to not age since My Best Friend's Wedding.