Numlock Awards: The Races You Haven't Been Following
Numlock Awards is your one-stop awards season newsletter, and it's back! Every week, join Walt Hickey and Michael Domanico as they break down the math behind the Oscars and the best narratives going into film's biggest night. Today's edition comes from Michael.
Walter & I are thinking of doing a mailbag edition next week, so please email all of your questions to us so we can get to answering them! You can just reply to this email.
One of my favorite things to do every awards season is to better acquaint myself with the lesser-known categories. I did this last year as well, and now it's back by popular demand! Today, we'll be going over this year's nominees for Best Visual Effects and Best Film Editing.
Best Visual Effects
As I explained last year, Best Visual Effects has had a long and bumpy road to becoming an official Oscars category. But here we are with our five nominees: Avengers: Endgame, The Irishman, The Lion King, 1917, and Star Wars: The Rise of Skywalker.
Best Visual Effects is one of the best categories because, after narrowing down the potential nominees to 10 shortlisted films, the Academy has those 10 potential nominees make a brief presentation to members of the Visual Effects branch in the VFX Bake-Off. (Note: VFX stands for Visual Effects.) And this year, in addition to the five nominees, the other films in the running were Alita: Battle Angel, Captain Marvel, Gemini Man, Terminator: Dark Fate, and…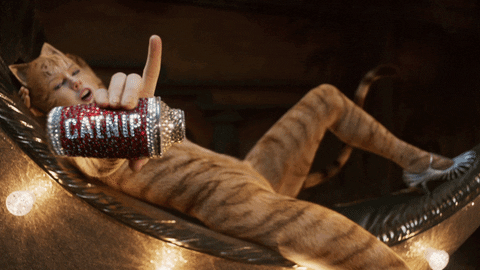 Cats! Bless the Visual Effects Executive Committee, who put Cats on the shortlist so that the Cats VFX team could try to sway Academy voters to legitimately make Cats an Oscar-nominated film for all of time, from now until… that part at the end where the Jennifer Hudson cat takes a hot air balloon (?) to the magical reincarnation heaven (?) that is overseen on earth by Judi Dench (as a cat, maybe?).
Anyway, it didn't work, but let's dive into some of the highlights from the bake-off.
Netflix also has a great 13-minute documentary on the special effects in The Irishman, which you can check out below:
Best Film Editing
This award has been around since 1934, when Conrad Nervig won the first award for Eskimo. Currently, four people have won this award three times, more than anyone else. One of those four is nominated again this year, and might win a record fourth Best Film Editing Oscar.
When people think of Martin Scorsese's famous collaborators, they often point to Robert De Niro, Joe Pesci, or Leonardo DiCaprio. But Thelma Schoonmaker has worked with Scorsese more than those three guys combined. Since Raging Bull, Schoonmaker has edited every single one of Scorsese's feature films. (She even edited his first feature, 1967's Who's That Knocking at My Door.) Now 80, and with three competitive Oscars to her name, she could make history by becoming the first editor to win four Oscars in the category. Fellow nominee Tom Eagles (Jojo Rabbit) recently called Schoonmaker a "an editing idol of mine and a god in the field," so she has her fans even among her competition.
But Schoonmaker faces serious competition from Parasite's Yang Jin-mo. He already beat Schoonmaker in a head-to-head at the American Cinema Editors Awards. Given Parasite's victory at the SAG Awards — and The Irishman's continued failure to win serious hardware at the precursors — it looks like the all-time record for Best Film Editing may elude Schoonmaker. While foreign-language films don't have a strong track record with this award, Parasite is such a critical and commercial hit, it may just do the impossible. If you've seen Parasite, I'd recommend this interview with Yang, where he basically downplays his editing and credits director Bong Joon-ho for Parasite's success. Who doesn't love a humble Oscar winner?
Even the other nominees, Ford v Ferrari and Joker, could be serious contenders. Best Film Editing sometimes means Most Obvious Film Editing, and Ford v Ferrari can make a case for itself with its car-racing sequences. (And, proving that directors love working with the same editor, director James Mangold and nominee Michael McCusker have been working together since 2005's Walk the Line.) Joker, on the other hand, got 11 nominations at the Oscars. It would be foolish to downplay that sort of broad support across the different branches of the Academy.
Soapbox time! A few years ago, the conventional wisdom was a win for Best Film Editing was a strong predictor for Best Picture, so a lot of Oscar watchers told people to pay close attention mid-ceremony when this award is typically handed out. And I can see why: from 2000 to 2008, more than half of the Best Film Editing winners won Best Picture. But ever since the expanded era started in 2009 (where 10 films can get nominated for Best Picture), the winner of Best Film Editing has only won Best Picture twice. And yet I hear this stat repeated again and again and again. As Walter has been explaining over the course of this newsletter, old Oscar stats in the pre-expansion era aren't actually that helpful when it comes to predicting Best Picture. So please, the next time your Oscarologist friend brings this stat up at your viewing party, politely shut them down. Don't credit me, though. I have enough enemies as is.
That's it from me this week! Again, next week, Walter & I are thinking of doing a mailbag, so please email all of your questions to us so we can get to answering them!