Numlock Awards: Leading Actresses
Numlock Awards is your one-stop awards season newsletter, and it's back! Every week, join Walt Hickey and Michael Domanico as they break down the math behind the Oscars and the best narratives going into film's biggest night. Today's edition comes from Michael.
One of the best parts of awards season is right now, when there's still so much uncertainty about who's going to walk away with the major Oscars. This is the period of time just before we know which actors' and actresses' lists of family, friends, and agents will keep getting repeated ad nauseam for months as people politely applaud. So let's jump into Best Actress and see who the main contenders are.
Best Actress
Best Actress has winnowed down to seven women: Awkwafina (The Farewell), Cynthia Erivo (Harriet), Scarlett Johansson (Marriage Story), Lupita Nyong'o (Us), Saoirse Ronan (Little Women), Charlize Theron (Bombshell), and Renée Zellweger (Judy).
That's not to say no one else is in the running — last year, Yalitza Aparicio (Roma) missed out on the Golden Globes and SAG Awards and still landed an Oscar nomination. But these are the seven women who keep showing up on the shortlists for major awards. So what's the narrative pushing each woman forward, or pulling her back?
(1) Awkwafina in The Farewell.
Pros: Awkwafina broke out in last year's Crazy Rich Asians and has since hosted SNL, popped up in a major franchise (Jumanji: The Next Level), and has a new sitcom coming out based on her life with the world's worst title (Awkwafina is Nora from Queens). Even if she can't come up with a comprehensible sitcom title, she's clearly having a moment.
Cons: The Farewell came out back in July and grossed $17 million, which is a solid number for an independent film, but a small enough number that it could be forgotten in favor of more recent awards-season releases. She also missed out on a SAG nomination.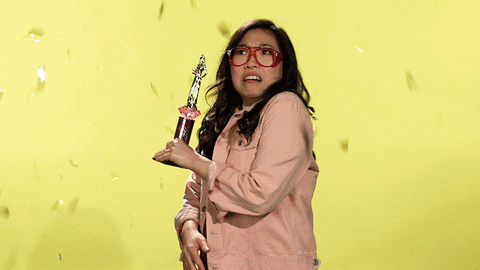 (2) Cynthia Erivo in Harriet.
Pros: Cynthia Erivo already has the EGT of her EGOT, so at 32 she's one of the youngest performers to ever achieve that kind of awards success. Plus, Harriet has already earned $42 million in the U.S. and received an A+ from moviegoers, according to Cinemascore.
Cons: While audiences have responded to Harriet, it hasn't been as critically acclaimed, with a less-than-stellar 73% score on Rotten Tomatoes. Despite praise for Erivo's performance, Harriet probably won't be a Best Picture nominee.
(3) Scarlett Johansson in Marriage Story.
Pros: Scarlett Johansson has balanced arthouse indie films with major blockbusters for the better part of the decade, and yet has never been nominated for an Oscar (or even a SAG award until this current awards season). There could be a sense she's overdue — though I'm not sure the world's highest-paid actress (earning $56 million last year) is particularly overdue for anything. She's also in a serious Oscar contender, since Marriage Story will also likely score nominations for Best Picture, Best Actor for Adam Driver, Best Supporting Actress for Laura Dern, and Best Original Screenplay.
Cons: She can't get out of her own way. She had a splashy profile in The Hollywood Reporter where she defended Woody Allen. She had a big interview in As If Magazine where she said she should be able to play "any person, or any tree, or any animal" after several casting controversies, and yet I didn't see her as an animal in Cats. If anything tanks her narrative, it'll be her own comments.
(4) Lupita Nyong'o in Us.
Pros: Lupita already has an Oscar for 12 Years a Slave, so she's on the Academy's radar. Us was also a hugely anticipated follow up for Jordan Peele, who previously wrote and directed Get Out, and it didn't disappoint, grossing over $255 million worldwide. She also doesn't go around defending controversial directors in print, so that always helps.
Cons: She missed out on a SAG Award nomination, and the novelty of Get Out was that it was so unexpected, while people went into Us with much higher expectations.
(5) Saoirse Ronan in Little Women.
Pros: Saoirse Ronan is only 25 years old and has been nominated for three Oscars — her first nomination was for Atonement, when she was just 13. Clearly, Academy voters are fans of her work. She's also starring in the newest Little Women as Jo March, a role that earned Winona Ryder a Best Actress nomination … 25 years ago. Sometimes, things work out like that.
Cons: She missed out on a SAG Award nomination, and Little Women is the umpteenth version of the Louisa May Alcott novel. We'll have to see if people respond to yet another adaptation of this story.
(6) Charlize Theron in Bombshell.
Pros: Bombshell has been positioning itself as a Movie With Timely & Important Themes in the vein of movies like Zero Dark Thirty or anything Aaron Sorkin does. Charlize has an Oscar for Monster, so Academy voters like her, and more importantly, this is a completely different role since she's playing former television personality Megyn Kelly (whatever happened to her?). She even has crazy prosthetics, and the Oscars love some good prosthetics work.
Cons: Bombshell has made even less money than Cats, and it's not a critical favorite either, sitting at a 67% score on Rotten Tomatoes. Also, do we really think someone is going to win an Oscar for playing Megyn Kelly?
(7) Renée Zellweger in Judy.
Pros: It's a biopic! She does her own singing! She has prosthetics! Someone, just give Renée Zellweger the Oscar already for putting in the work as Judy Garland in the biopic Judy.
Cons: It's a (formulaic) biopic! She does her own (okay) singing! She has (less showy) prosthetics! Renée Zellweger is having something of a Renéessance, with a movie with serious buzz for the first time in over a decade and a new Netflix show. There's just something that feels so Old Academy about a performer winning an Oscar for portraying another performer, but then again Rami Malek did it this past year as Freddie Mercury in Bohemian Rhapsody, so maybe the radical changes to the Academy's membership have not affected voting patterns just yet.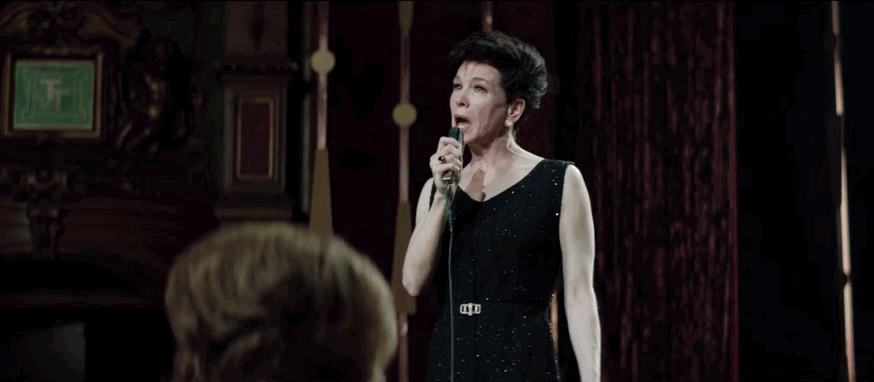 That's it from me this week! Once the nominations come out, we'll go over some of the narratives in the lesser-known categories as well as continue covering some of these bigger categories. For now, I'm handing it over to Walter.
Follow me on Twitter and check out my podcast, Not Her Again, wherever you get your podcasts.